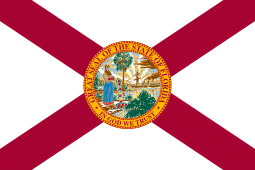 Although ranked 22nd in total landmass, Florida is the third most populous state in the U.S., with nearly 21.5 million residents. Florida is the most southeastern U.S. state, bordered by the Atlantic Ocean on the east and the Gulf of Mexico on the west. As a result, the Sunshine State has hundreds of miles of beautiful sandy beaches. Florida is home to some of the country's most beautiful and famous cities such as Jacksonville, the largest city in the state and the entire southeast, Miami, with its outstanding beaches and nightlife, Fort Lauderdale, the country's Spring Break destination, and Tallahassee, the state capital and home to Florida State University and Florida A&M.
Other major cities in the state include:
Tampa
Orlando
St. Petersburg
Port St. Lucie
Boca Raton
Fort Myers
Gainesville
Naples
Pensacola
The U.S. Census Bureau lists Florida as one of the fastest-growing states in the country, led by the city of Jacksonville. Many from the northeast, and New York, in particular, find the beaches, weather, reasonably priced real estate, and lack of state income taxes compelling reasons to make the transition. Businesses, too, find the tax incentives an excellent rationale to relocate to the state.
For many, Florida is a part-time home during the winter season for a month or more. The state's population swells by nearly one million people each year, from October/November to April/May, and that doesn't include tourism. Tourism is the state's largest industry adding over $100 billion annually to Florida's economy. The state's beaches, amusement parks, and other unique tourist attractions make Florida one of the most visited states in America. Each year family vacationers flock to Orlando, sunseekers head to the coastal cities Miami, and Fort Lauderdale, while still others seek the white-sand beaches of the Florida Panhandle. The Florida Keys and Key West seem like tropical islands, a world away from the mainland.
Some of the top tourist attractions include Disney World, of course, Universal Studios, Busch Gardens in Tampa, the Everglades National Park, Kennedy Space Center, and the Daytona 500 International Speedway. Thousands flock to the state each year for the Grapefruit League, MLB's spring training, in cities such as Lake Buena Vista (Atlanta Braves), Sarasota (Baltimore Orioles), Jupiter (St. Louis Cardinals), Tampa (New York Yankees), and West Palm Beach – The Ballpark of the Palm Beaches, (home to the Houston Astros and Washington Nationals).
For more information regarding the state of Florida, you can visit the official state website at https://www.myflorida.com/.
Florida has four primary interstate highways and eight auxiliary highways as follows:
Primary Interstates:
I-95 Major north–south interstate along the east coast
I-75 Major north-south interstate through central Florida and along Gulf Coast
I-75E Major north-south interstate through central Florida and along Gulf Coast
I-4 Connects Daytona Beach with Tampa
I-10 Major east–west interstate to Alabama and points west
Auxiliary Highways:
I-110 in Pensacola
I-175 in St. Petersburg
I-275 in the Tampa Bay area
I-375 in St. Petersburg
I-195 in Miami Beach
I-295 Jacksonville Beltway
I-395 the Dolphin Expressway – toll road
I-595 the Port Everglades Expressway connecting I-75 in the west with I-95
I-795 in Jacksonville
The Florida highway system provides easy access to virtually any of the state's more significant cities, from Pensacola in the west to Jacksonville in the northeast and Key West. I-95 covers north-south routes along the entire eastern coast, and I-75 enters the state in the north from Valdosta, Georgia, and runs down the Gulf Coast. I-10 is the primary east–west feeder from Alabama, and I-4 connects the state, east, and west between Daytona and Tampa. Almost all Florida's major cities lie along one of these routes. The few that do not are serviced by excellent state roads, making auto transport quick, convenient, and reasonable.
The migration of snowbirds each Spring, new residents and retirees arriving in record numbers, and vacationers keep the auto transport routes busy.
Florida Population and Roads
With its dense population and access to major highways, auto transport carriers can quickly get to and from Florida. This combination of population density and ease of access puts the city on many of the more frequently used auto transport routes, making shipping more economical and shorter wait times for pick-up and delivery. I-95 runs directly from Miami through Fort Lauderdale, West Palm Beach, Daytona Beach, and Jacksonville, to New York, and to Maine. I-10 provides access to the northwestern cities of Pensacola, Panama City, and Tallahassee. And for those cities on the glorious Gulf Coast, Tampa, St. Petersburg, Clearwater, Cape Coral, and Fort Myers, I-75 afford easy access to each city. Transport costs for the more rural parts of the south-central state may be slightly more expensive and take longer for delivery.
Mercury Auto Transport has access to numerous transports who offer either open carriers or enclosed transport for your luxury or exotic vehicle and offer door to door, terminal to terminal, or door to terminal shipments. With the number of luxury and exotic auto dealers and premier auto auctions in the state, enclosed carriers are in demand. They may be a bit more expensive, but the added protection is worth it.
We offer transport to and from any part of Florida, within the state, or to any other state in the U.S. or overseas. Know that our experienced agents are auto shipping experts and have handled transactions like yours previously. Feel free to call us for a custom quote, and our professional representatives will walk you through the costs and options available.
Get a Free Quote
Whether you've taken a vacation home in Florida, retired, or have accepted a new position in Jacksonville or Miami, we at Mercury Auto Transport specialize in car transportation into or out of the state and are ready to help you move. Fill out our free online auto transport quote request form, and you'll receive a customized quote in your e-mail within the next hour.
You can also call our toll-free telephone number at 800-553-1828 to speak to one of our experienced, professional auto transport representatives. They can answer your questions and help you on the path to a great auto transport experience. Call us or fill out our free online auto transport quote request form and get your car shipment started today with Mercury Auto Transport.
Visit our home page for more details regarding our process, types of transport, insurance, and helpful guides on Strategizing Your Auto Transport, Top Ten Tips to Ensure a Safe Transport, and Vehicle Inspection.
The more you know about best in class auto transport processes and procedures, the easier it is to select the right auto broker for your next move.