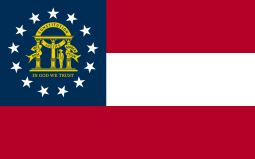 Although ranked 24th in total landmass, Georgia is the eighth-most populous state in the U.S., with over 10.5 million residents. Five other states border this southeastern state:
Florida – to the south
South Carolina – to the northeast
Alabama – to the West
North Carolina and Tennessee – both border Georgia to the north
The Georgia terrain spans coastal beaches on its southeastern border with the Atlantic Ocean, nearly eight million acres of farmlands, and mountains; the Appalachians in the northwest part of the state, the Blue Ridge Mountains in the northeast, and the Piedmonts in the central part of the state. In addition to its coastal cities along its 110 miles of shoreline, Georgia has a string of 15 barrier islands, from Tybee in the north to Sea Island, St. Simons, Cumberland, and Jekyll Island. Only four of these islands are accessible by car, the remaining idyllic vacation spots all require transportation by boat.
One of Georgia's most famous coastal cities is Savannah. With its population of approximately 145,000, the city is separated from South Carolina by the Savannah River. Savannah is best known for its southern charm and hospitality, its rich history, architecture, and its coastal landscapes.
Atlanta, the capital of Georgia, is situated in the north-central portion of the state and is home to Hartsfield-Jackson International Airport, the world's busiest passenger airport. In addition to its modern, chic urban sprawl, Atlanta is considered the birthplace of the civil rights movement in the US and is home to the Martin Luther King, Jr. National Historic Site. The city is also home to the world's most famous beverage brand, Coca-Cola, and several professional sports teams including:
Atlanta Braves: Major League Baseball
Atlanta Falcons: National Football League
Atlanta Hawks: National Basketball Association
Atlanta Dream: Women's National Basketball Association
Atlanta United FC: Major League Soccer
Other major cities in the state – listed by population:
Augusta – home of the Augusta National Golf Course and the Masters' Tournament
Columbus – site of the last battle in the Civil War
Macon – its Farmers Market is known for the best peaches, peanuts, and pecans, in Middle Georgia
Athens – home of the University of Georgia
Roswell and Sandy Springs – suburbs of Atlanta
The U.S. Census Bureau lists Atlanta as the fourth fastest-growing city in the country and Georgia as the fifth fastest-growing state. The majority of people relocating to the state do so for their occupations, and many come from the northeast, New York, in particular, or neighboring Florida.
Some of the top tourist attractions in Georgia include Savannah's Historic District, Atlanta's Georgia Aquarium and Botanic Gardens, the Chattahoochee National Forest in northern Georgia, Jekyll Island, and the Callaway Gardens, just north of Columbus.
For more information regarding the state of Georgia, you can visit the official state website at https://georgia.gov/.
Georgia has over 1,250 miles of interstate highways connecting the state to the rest of the country. Coupled with Hartsfield-Jackson International, deep-water ports in Savannah and Brunswick, and its strategic geographic location, Georgia, and specifically Atlanta, is a major southeast transportation hub.
Two of the nation's most important north-south interstate highways pass through the state:
I-95 passes through Savannah and Georgia's coastal areas linking the state to Miami, Florida, in the south and trough New York state in the north.
I-75 crosses Georgia from its northwest border with Tennessee to its far southern border with
Other important interstate highways connecting Georgia to other parts of the nation include:
I-85 bisecting the state east to west from South Carolina to Alabama
I-20 another east-west route that passes through the state's midsection
I-16 connecting Macon to Savannah from the west
All other interstate designations are beltways or spurs connecting interstate highways within Georgia:
I-285 and I-675 in Atlanta
I-985 connects I-85 with the Gainesville area in north Georgia
I-475 in Macon allows travelers to bypass the city.
I-185 in Columbus
I-516 is a spur highway in Savannah
I-520 is Augusta's perimeter highway
Georgia's highway system provides easy access to virtually all the state's more popuated cities, with most routes, except I-95 going through Atlanta. Atlanta is a true transportation hub with major highways entering and exiting the metropolitan areas of Atlanta, Roswell, Marietta, to all points across the state.
With its concentration of industry, vacationers, and population growth, Georgia's auto transport routes remain some of the most active in the southeast.
AUTO TRANSPORT GEORGIA
With its dense population and access to major highways, auto transport carriers can quickly get to and from Atlanta, its suburbs, and onto Macon, Columbus, and Augusta. Savannah is serviced by I-95, north-south, or I-16 from the west. This combination of population density and ease of access puts Atlanta and its connector freeways on many of the more frequently used auto transport routes, making shipping more economical, with shorter wait times for pick-up and delivery. Transport costs for the more rural southern parts of the state will be slightly more expensive and take longer for delivery.
Mercury Auto Transport has access to numerous transports who offer either open carriers or enclosed transport for your luxury or exotic vehicle and offer door to door, terminal to terminal, or door to terminal shipments. To Atlanta and its suburbs, enclosed carriers are in demand. They may be a bit more expensive, but the added protection is worth it.
We offer transport to and from any part of Georgia, within the state, or to any other state in the U.S. or overseas. Know that our experienced agents are auto shipping experts and have handled transactions like yours previously. Feel free to call us for a custom quote, and our professional representatives will walk you through the costs and options available.
AUTO TRANSPORT GEORGIA
Whether you've accepted a new position in Alpharetta, purchased a second home on St. Simons Island, or are attending The Masters in Augusta and want your own transportation, we at Mercury Auto Transport specialize in transporting vehicles into or out of the state and are ready to help you move. Fill out our free online auto transport quote request form, and you'll receive a customized quote in your e-mail within the next hour. You can also call our toll-free telephone number at 800-553-1828 to speak to one of our experienced, professional auto transport representatives. They can answer your questions and help you on the path to a great auto transport experience. Call us or fill out our free online auto transport quote request form and get your car shipment started today with Mercury Auto Transport.
Visit our home page for more details regarding our process, types of transport, insurance, and helpful guides on Strategizing Your Auto Transport, Top Ten Tips to Ensure a Safe Transport, and Vehicle Inspection.
The more you know about best in class auto transport processes and procedures, the easier it is to select the right auto broker for your next move.
GEORGIA AUTO TRANSPORT