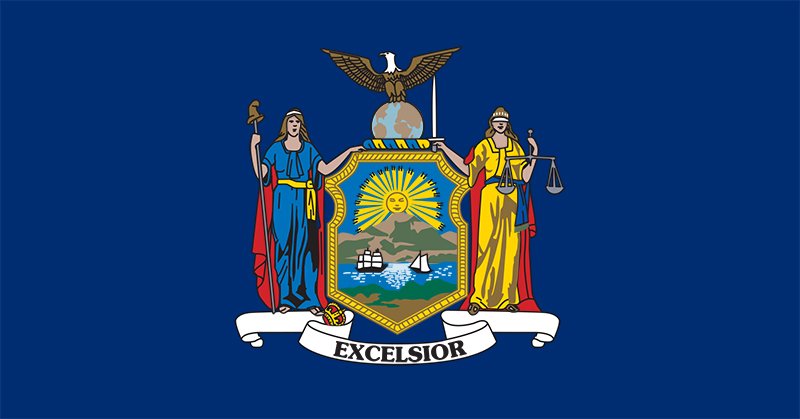 Although ranked 27th in terms of total land area, New York is the fourth most populous state in the U.S. Nearly two-thirds of the state's population lives in the New York City metro area, making the Big Apple the largest city in the U.S. with 8.34 million people. New York City has long been considered the gateway for immigration to the U.S. and is home to the United Nations and the Statue of Liberty in New York Harbor. NYC is often described as the cultural, financial, and media capital of the world. Other iconic landmarks in Manhattan are Central Park, the Empire State Building, and Times Square.
The next most significant cities in New York are Buffalo, Rochester, Yonkers, and Syracuse. The state capital is in Albany, New York, the center of the Albany, Schenectady, Troy, and Sarasota Springs Capital District. Buffalo is the second-largest city in the state and is home to the world-famous Niagara Falls. Syracuse is a major educational and economic hub in Central New York and is at the crossroads of the Erie Canal and its other branch canals. Rochester, the third-largest city in the state, is located on Lake Ontario and is a popular vacation destination for the Finger Lakes. Other popular vacation spots in rural New York state are the Catskills and the Adirondacks.
For more information regarding New York state, you can visit the official state website at https://www.ny.gov/.
New York state has some thirty-one Interstate Highways, nine primary routes, and twenty-two auxiliary routes, including I 95, which travels from New York to points south. These are some of the most heavily traveled roads in the country.
Although people are moving out of New York in record numbers, 46,000 in 2018, there are always new residents arriving taking up the challenge to "make it there." New York City has one of the most sophisticated public transportation systems in the country, yet many residents still enjoy a vehicle for weekend getaways to beautiful upstate New York.
AUTO TRANSPORT NEW YORK
With its massive population and access to major highways, auto transport carriers can quickly get to and from New York. This combination of population density and ease of access puts the city on one of the more frequently used auto transport routes, making shipping more economical and resulting in shorter wait times for pick-up and delivery. I-95 runs directly through New York on its way from Miami to Maine and is one of the busiest routes for auto transport in the country. We have access to numerous carriers who offer either open carriers or enclosed transport for your luxury or exotic vehicle and offer door to door, terminal to terminal, or door to terminal shipments. When shipping during the winter months, you may want to consider an enclosed carrier to protect your vehicle from the harsh Northeast elements. Enclosed carriers are more expensive, but the protection is worth it.
Transport costs for the more rural parts of the state will be more expensive and take longer for delivery if you're off a major interstate. However, the other large cities Buffalo, Rochester, and Albany, all have excellent access to major interstates such as I-90, which borders each city on its way from Maine to Oregon.
We offer transport from any part of New York state to any other state in the U.S. or overseas. Know that our experienced agents are auto shipping experts and have handled transactions like yours previously. Feel free to call us for a custom quote, and our professional representatives will walk you through the costs and options available.
Whether you're leaving the state for warmer climes, have accepted a new position in Manhattan, have been elected to office in Albany, or are just vacationing in the Catskills, we at Mercury Auto Transport specialize in car transportation into or out of the state and are ready to help you with your move. Fill out our free online auto transport quote request form, and you'll receive a customized quote in your e-mail within the next hour. You can also call our toll-free telephone number at 800-553-1828 to speak to one of our experienced, professional auto transport representatives. They can answer your questions and help you on the path to a great auto transport experience. Call us or fill out our free online auto transport quote request form and get your car shipment started today with Mercury Auto Transport.
Visit our home page for more details regarding our process, types of transport, insurance, and helpful guides on Strategizing Your Auto Transport, Top Ten Tips to Ensure a Safe Transport, and Vehicle Inspection.
The more you know about best in class auto transport processes and procedures, the easier it is to select the right auto broker for your next move.
NEW YORK AUTO TRANSPORT