Are you planning to ship your car across the country? 
Although shipping your automobile can be a practical and affordable way to move it, it's crucial to be aware of the dangers of auto transport fraud. If you're not careful, you might not be able to spot these scams, which might cost you both your car and your money. 
We'll go over the most common car shipping scams, along with tips on how to avoid them. By following these tips, you can protect yourself from being scammed and ensure that your car is shipped safely and securely.
What is a Car Shipping Scam?
A dishonest scheme in which a person or company falsely represents itself as offering car shipping services but either does not offer them or does so insufficiently is known as a car shipping scam. 
Even though these scams can take many different forms, they frequently involve the con artist demanding advance payment for shipping services that are never provided or charging outrageous prices for poor services.
Given the number of scammers operating in this sector, it is crucial to exercise caution while selecting a car shipping firm. Before accepting any services, it is advisable to conduct in-depth research on the business and read client testimonials.
What are the Different Types of Auto Transport Scams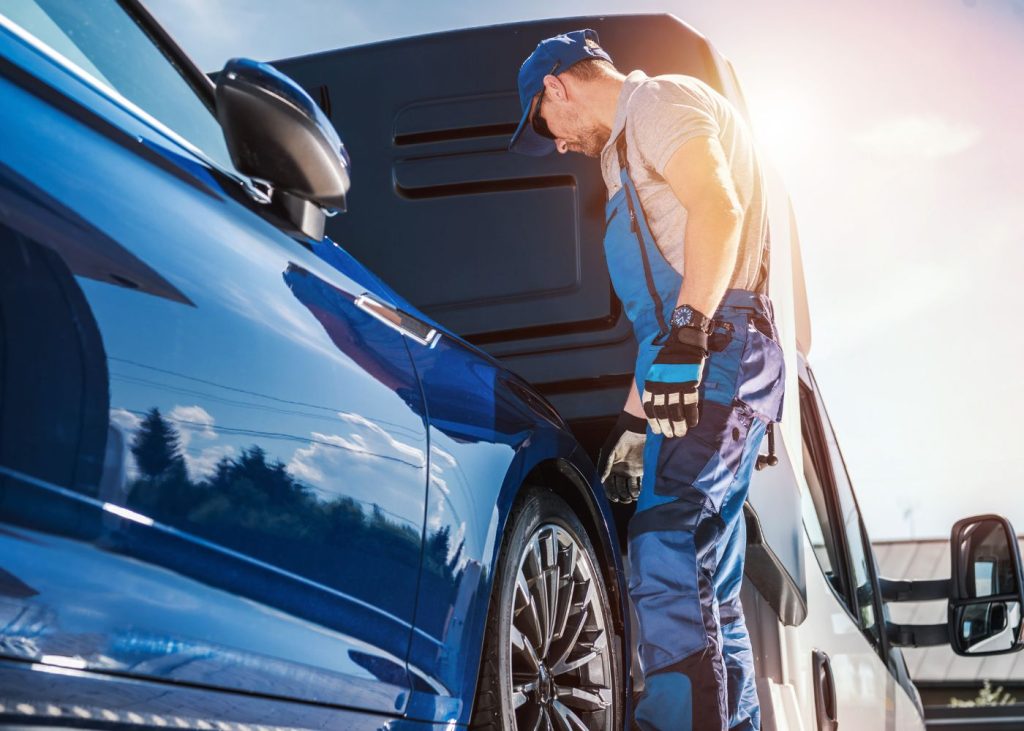 There are several types of auto transport scams that individuals should be aware of when seeking car shipping services:
Unrealistic Shipping Prices
The majority of customers search for auto transport businesses that provide standard grade services at reasonable costs. This is not incorrect, but having a poor understanding of the expenditures associated with car mobility could quickly drain your bank account. 
When calculating shipping costs, a number of criteria are taken into account, and no matter what, these prices cannot go below a particular range. It is advised to compare several shipping estimates to find out the current market prices for a specific area or distance in your nation.
Phishing Scam
In an auto transport phishing scam, the scammer may send an email or text message that appears to be from a legitimate car shipping company, asking the individual to click on a link or enter their personal information in order to track the delivery of their car or make a payment. The link or website may look legitimate, but it is actually a fake site designed to steal the individual's personal information.
Insufficient Insurance
An "insufficient insurance" scam in auto transport is a fraudulent scheme in which a car shipping company claims to have insurance coverage for the transport of a vehicle, but the coverage is inadequate or nonexistent. This can leave the individual whose car is being shipped vulnerable to financial losses if the car is damaged or lost during transport.
At Mercury Auto Transport we offer Door-To-Door Auto Transport Service; 100% Bumper-To-Bumper Auto Insurance
As part of providing a great car shipping experience, it's our job to guarantee that the carrier we assign to pick up your vehicle is licensed and insured. You can see our license here.
When you go with Mercury for your auto transportation, you can rest easy knowing that the carrier assigned to move your car is fully insured and licensed with the FMCSA (Federal Motor Carrier and Safety Administration).
Your vehicle is covered by the carrier's insurance policy if they are doing the shipping. Also, depending on the type and size of the truck/trailer that is shipping your car, the insurance policy can cover from $100,000 to $1,000,000 of damage.
Fake Seller
In this type of scam, the fake seller may advertise a car for sale online or through classified ads and then ask the buyer to make a payment for the car in advance. The scammer may ask the buyer to wire the money or send a cashier's check and may provide fake documents or other false information to make the sale appear legitimate. However, once the payment is received, the fake seller disappears, and the buyer is left without a car and out of their money.
How to Avoid Auto Transport Scams
Unfortunately, car transportation scams are a daily reality. With so many businesses out there, it might be challenging to discover "The One" that you can rely on. To avoid such situations, follow these easy procedures.
It is generally a good idea to look for registered service providers when seeking car shipping services, as this can help you avoid auto transport scams. Registered service providers are companies that are licensed and registered with the appropriate regulatory agencies, and they are typically subject to certain rules and regulations that help protect consumers.
By choosing a registered service provider, you can increase your chances of having a positive experience and reduce the risk of being scammed. However, it is still important to research the company thoroughly and read reviews from previous customers before agreeing to any services.
Verify the Address
You may help confirm that you are working with a legitimate company and lower your risk of being scammed by checking a car shipping company's address. Prior to accepting any services, it is still crucial to conduct extensive research on the business and read reviews from prior clients.
Finding trustworthy vehicle transport companies and avoiding auto transport scams can be made easier by reading online reviews. Online reviews can give you insightful information about the experiences of past clients and give you a feel for the company's dependability and level of customer service.
You can learn more about the position of the business and the quality of its services by reading internet reviews. As a result, it is advisable to read a range of reviews and use your best judgment when assessing them. However, it is important to keep in mind that not all evaluations may be authentic.
At Mercury Auto Transport, we take pride in our auto transport services, and we're committed to delivering the best auto shipping experiences in America. Thus, our promise to you is to ensure you get your car shipped to you safely with our 100% risk-free money back Mercury guarantee.
You pay nothing until you select a carrier for your car shipping, and you can cancel at anytime before we find you a carrier. Learn more about our money-back Mercury guarantee.
Lookout for Untraceable Payment Methods
When looking for auto shipping services, untraceable payment methods, like wiring money or sending a cashier's check, might be a warning sign because scammers may use them to evade discovery and make it difficult for victims to get their money back.
Use traceable payment methods, such as a credit card or a secure online payment provider, to prevent auto transport fraud in general. These techniques can help you avoid fraudulent charges, contest any unlawful charges, and communicate with the business more effectively.
Read the Contract Thoroughly
In order to prevent auto transport scams and make sure you are aware of the terms and conditions of the automobile shipping services you are receiving, it is crucial to read the contract in its entirety. By carefully reading the contract, you can better grasp what is covered by the services, any fees or charges, and the business's procedures for managing damages or delays.
Check the Driver's Qualifications
In order to prevent vehicle transport scams and to be sure that your automobile is being moved safely and securely, it can be helpful to check the driver's credentials. During transport, a skilled and experienced driver is more likely to manage your automobile carefully and adhere to the necessary safety precautions.
You can ask the car shipping business for the driver's credentials and check them with the relevant regulatory bodies to determine the driver's qualifications. This could contain a driver's license, training credentials, and any pertinent professional certifications. You can inquire with the business about the experience of the driver as well as any safety training or practices they have in place.
Confirming the transport vehicle's condition and making sure it has the necessary safety features, like tie-down straps or a car carrier, is a smart idea in addition to checking the driver's credentials. By implementing these safety measures, you may improve your chances of having a good experience and lower the possibility of any damages or mishaps during shipment.
FAQs About Auto Transport Scams
What should I watch for when shipping a car?
There are a few things to be on the lookout for when shipping an automobile to guarantee that you are getting high-quality services and to lower the possibility of any issues or scams. Here are a few things to keep in mind: properly investigate the company, verify the business' insurance, and try to avoid any upfront payments.
How do I know if a car transport company is reliable?
There are a number of ways to find out if a car shipping company is trustworthy, and one of them is to read its website reviews. If there are a lot of negative reviews, it's better to avoid using that shipping company.