Our auto transport services by state is safe, quick, affordable and convenient. We offer state to state car shipping – nationwide. Our auto transport services by state covers all 50 states in the US.
Thus, if you're searching for more information about specific states that we transport vehicles to and from, you're on the right page. You can explore our review pages to see what people are saying about their our auto transport by state or their state to state car transport experiences with us. 
Get Transport Quote To Transport A Vehicle From State To State
Many different factors can alter transportation services from state to state. For instance, transporting vehicles to Florida will be easier than shipping to North Dakota for several reasons.
Yet, if you want to find out more, you have to check out those state pages. In each state page, you'll find out more about what can affect auto transport in or out of the state's major areas. You'll also learn more about specific cities within each state. Read up our guide to moving to another state. 
It's important to understand how auto transport by state works, and that's where we come in. We break it down by state, and you can read more about each state via the links below. These
are divided by
region, though they are not the official regions defined by the U.S. Census Bureau.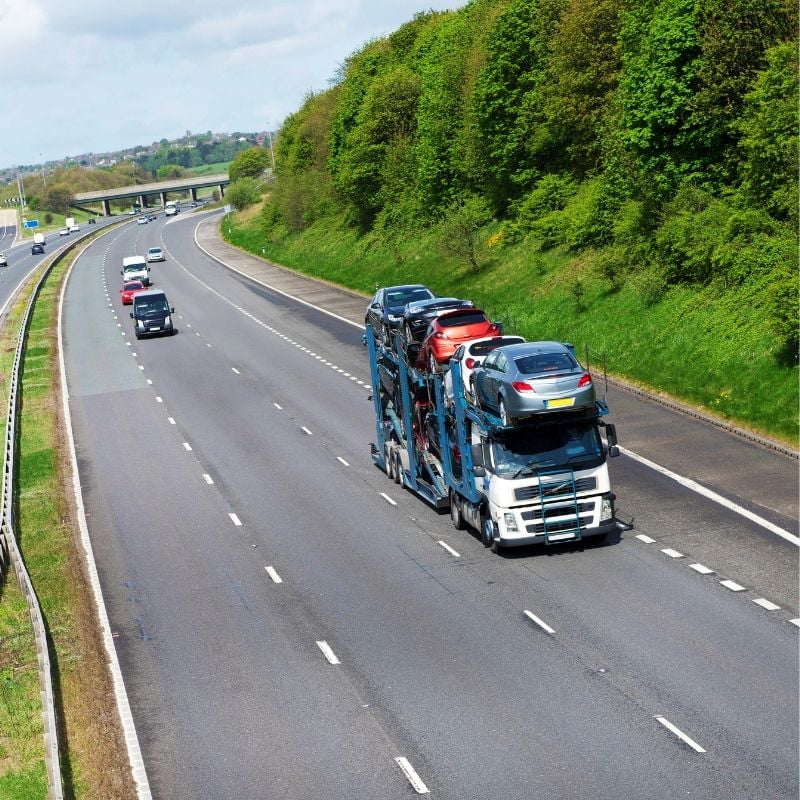 How To Transport A Vehicle From State To State
Transporting vehicles across state lines is not difficult at all. It's the same as transporting a vehicle inside your state. Although, it can be a little bit longer depending on the distance. A driver covers around 500 miles per day, so the more lead time you give it, the better.
According to the FMCSA, you can't leave any items in your car during transport. But, you can leave only items that belong in a vehicle, such as a few tools, spare tire, and other relevant items.
Interested in shipping your car from state to state? Our auto transport services by state has got you covered. Get a quote by calling us via 800-553-1828
Frequently Asked Questions
First, we want to determine which is the best trailer type for your vehicle size.
An auto transport trailer is the most cost-effective option for transporting regular-sized vehicles. This includes cars, SUVs, and trucks. Door to door auto transport services are usually the cheapest and usually the best choice.
When you contact and speak to a Mercury Agent, they will ask you for vehicle and shipping details. After that, we'll locate the right carrier for you. Then, they will go over all the pickup and delivery options available with you.
The cost of shipping a car overseas depends on which port we will ship from. Furthermore, it also depends on which country you're transporting to.
Luckily, for auto transport services by state, our agents are auto shipping experts. Please call us for a custom no-obligation quote. Our top representatives will walk you through all the costs and options available.
For auto transport services by state, Hawaii Shipments are completed in two hauls.
The first haul is from your pickup location to the port. This is either in Long Beach, CA or Seattle, WA (whichever is cheapest). This rate depends on several factors. Please see "How much does it cost to ship a car?" for more information about cross country pricing.
The second haul, Full Service from Long Beach, CA, Oakland, CA or Seattle Port to Hawaii costs $1495 for a car, SUV or Pickup Trucks. Once you speak with your Mercury Expert they will verify all your information and make this as seamless as possible.
If you're coming from Hawaii, shipping to the mainland (West Coast Ports) costs from $895 to $995 for Full Service.
The Hawaii ports are Honolulu, Hilo, Kahului and Nawiliwili. Rates may vary from port to port. Please contact us with your shipping information to confirm your rate.
Auto Transport Services By State: Ship Your Car From State To State
If you need to ship a car from one state to another, fill out our online quote form. To provide you with a free and no-obligation quote, we require some basic information about your car shipping needs. We only need to know where you're shipping to and from, as well as the vehicle's information. After that, we'll provide you a free quote.
View All State Auto Transport Below!
ALABAMA (AL)
Birmingham
Huntsville
Mobile
Montgomery
Selma
Tuscaloosa
ALASKA (AK)
Flagstaff
Mesa
Phoenix
Scottsdale
Tucson
ARKANSAS (AL)
Fayetteville
Fort Smith
Jonesboro
Little Rock
Texarkana
Anaheim
Fresno
San Diego
Sacramento
San Francisco
San Jose
Bakersfield
San Luis Obispo
Oakland
San Rafael
Modesto
Santa Ana
Los Angeles
Santa Barbara
Long Beach
Santa Rosa
Aurora
Boulder
Colorado Springs
Denver
Fort Collins
CONNECTICUT (CT)
Bridgeport
Hartford
New Haven
Hartford
Stamford
Greenwich
DELAWARE (DE)
Boca Raton
Clearwater
Daytona Beach
Fort Lauderdale
Fort Myers
Gainesville
Jacksonville
Kissimmee
Miami
Melbourne
Naples
Ocala
Orlando
Panama City
Pensacola
Sarasota
St. Petersburg
Tallahassee
Tampa
Athens
Atlanta
Macon
Marietta
Champaign
Chicago
Davenport
East St. Louis
Naperville
Peoria
Rockford
Springfield
Bloomington
Fort Wayne
Gary
Indianapolis
Lafayette
Muncie
Cedar Rapids
Des Moines
Iowa City
Sioux City
Kansas City
Lawrence
Wichita
KENTUCKY (KY)
Covington
Lexington
Louisville
LOUISIANA (LA)
Baton Rouge
Metairie
New Orleans
Shreveport
MAINE (ME)
Columbia
Baltimore
Germantown
MASSACHUSETTS (MA)
Boston
Cambridge
Lowell
New Bedford
Springfield
Worcester
Ann Arbor
Auburn Hills
Cadillac
Dearborn
Detroit
Flint
Grand Rapids
Kalamazoo
Lansing
Sterling Heights
Southfield
Troy
Warren
Bloomington
Minneapolis
Rochester
Saint Paul
MISSISSIPPI (MS)
Biloxi
Jackson
Gulfport
Olive Branch
Vicksburg
Columbia
Independence
Kansas City
Saint Louis
Springfiel
Butte
Billing
Bozeman
Great Falls
Missoula
NEVADA (NV)
Henderson
Las Vegas
Reno
Sparks
NEW HAMPSHIRE (NH)
NEW JERSEY (NJ)
Asbury Park
Atlantic City
Camden
Cherry Hill
Edison
Freehold
Long Branch
Newark
Princeton
Toms River
Trenton
Albany
Bronx
Brooklyn
Buffalo
Manhattan
New York
Queens
Staten Island
Yonkers
NORTH CAROLINA (NC)
Charlotte
Durham
Fayetteville
Greensboro
Raleigh
Winston-Salem
Akron
Canton
Cincinnati
Cleveland
Columbus
Dayton
Sandusky
Toledo
Warren
Youngstown
Beaverton
Eugene
Medford
Portland
Salem
Allentown
Harrisburg
Lancaster
Pittsburgh
Philadelphia
Reading
Scranton
RHODE ISLAND (RI)
SOUTH CAROLINA (SC)
Charleston
Columbia
Rock Hill
SOUTH DAKOTA (SD)
TENNESSEE (TN)
Chattanooga
Clarksville
Franklin
Jackson
Knoxville
Memphis
Nashville
Amarillo
Austin
Abilene
Beaumont
Brownsville
College Station
Corpus Christi
Dallas
Fort Worth
Galveston
Houston
Katy
Laredo
Lubbock
McAllen
Midland
San Antonio
Waco
Logan
Ogden
Park City
Provo
Salt Lake City
Sandy
VERMONT (VT)
VIRGINIA (VA)
Alexandria
Arlington
Chesapeake
Lynchburg
Newport News
Richmond
Virginia Beach
Everett
Olympia
Seattle
Tacoma
Vancouver
WEST VIRGINIA (VW)
Charleston
Huntington
Morgantown
Parkersburg
Appleton
Eau Claire
Green Bay
Janesville
Madison
Milwaukee
Racine
Casper
Cheyenne
Jackson Hole
Laramie