Terminal to Terminal Auto Transport
An auto transport terminal is a storage facility for automobiles, usually located near a large metropolitan area. Industry trends indicate that the number of terminals is declining due to decreased demand for this method of transport. When using the terminal to terminal method, you are responsible for delivering your vehicle to the terminal, where it will be picked up by a carrier. The carrier will then transport your vehicle to another terminal in proximity to your destination, where you would need to pick it up. Need help with terminal to terminal auto transport? We've got you covered.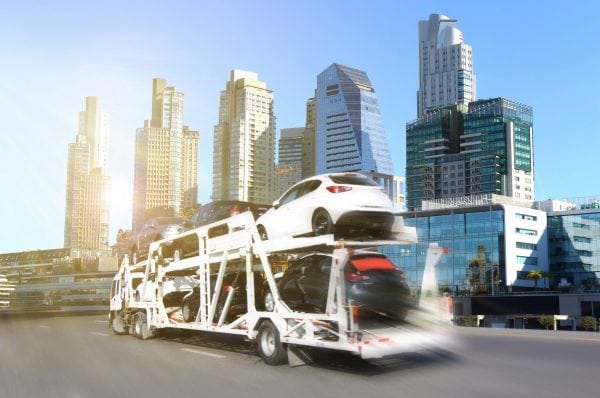 Terminal To Terminal Auto Services
Terminal to terminal is precisely what the name implies. You drive your car to a specified drop-off terminal where your vehicle remains until your carrier collects it. Once picked up, the carrier transports your vehicle to the destination terminal location, where you will pick up your car. In certain situations, you may opt for a hybrid service where the car is picked up at your door and delivered to a destination terminal. Similarly, for timing and convenience's sake; you may drop your car at a terminal for pick-up and arrange for delivery to your door at your destination.
The automotive transport industry has changed significantly in the past few decades. Similarly, several methods of transport, including terminal to terminal, are declining. In the past, you may have heard that this method is a more affordable way to transport your vehicle.  Not necessarily so today, due to additional storage facility charges. Typical terminals fees vary from $15 to $35 per day depending on location, with facilities near major metropolitan areas usually costing more.
When to Use Terminal to Terminal Auto Transport
When transporting your vehicle across the country or the state, you have options. Also, we'll provide a quick recap of the various options available to you and then drill down on when shipping your vehicle terminal to terminal may make sense. We'll define a terminal, explain the service, detail the benefits and disadvantages versus your other options, and compare the economics. We'll provide the pertinent details to enable you to make the appropriate decision for transporting your vehicle based on your unique needs.
You have three carrier options:
Open Transport Carriers – the most economical and considered the standard carriers in the industry today. Almost 90% of cars shipping across state or the country travel on open car transport.
Enclosed Auto Transports – more expensive and not as readily available as open transport carriers. Enclosed carriers are the upper echelon of transporters as they protect your vehicle against rain, dust, debris, and weather hazards.
Flatbed Auto Transports – the least used type of carrier, more expensive than other options, and require longer wait times for dispatch, pickup, and transport times.
You also have options relative to pick up and delivery of your vehicle:
Door to door shipping – the most popular method of auto transport in the industry today.
Terminal to terminal shipping – a less frequently used service, you deliver your vehicle to a terminal where it is picked up by the carrier. Upon delivery, you once again pick up your vehicle from the terminal. Your situation may dictate the use of a hybrid service where the car is picked up at the terminal and delivered to your door, or your vehicle is picked up at your door and delivered to a transport terminal.
Benefits of Terminal to Terminal Auto Transport
If you live in a major metropolitan area, where street parking is limited, and access for a carrier is limited, the terminal to terminal method may make sense. Other considerations for the terminal to terminal service:
Convenience aspects of terminal to terminal

Benefits people who want to drop-off or pick-up their cars on specific dates and times. You set the time to drop off or pick up your vehicle without having to coordinate with the carrier driver
You don't have to wait for a pick-up, and you can collect your vehicle when it suits you
In a situation where you don't necessarily need your vehicle moved immediately, but need a place to store it
You have the option of arranging for someone else to drop off or pick up your vehicle for you
If your situation dictates, and you're are unable to take your vehicle to the terminal, you can have the auto shipping company hire a local towing company for drop off

Terminal to terminal transport does enjoy some benefits cost-wise, generally offset by storage fees
The carriers transporting vehicles to and from regional terminals combine shipments headed to the same region, saving the carriers time and expense
Disadvantages of Terminal to Terminal Auto Transport
There are also significant drawbacks to the terminal to terminal transport business, contributing to its declining popularity.
The process and scheduling are more complicated – most terminal to terminal transporters require a full load before pick-up
The company transporting your vehicle is limited in what they can transport, example; if you own a lifted or modified vehicle, most terminal to terminal transport companies will not assist you
Terminals are also limited in what they can house
There are fewer terminals available today for auto transport
There are no enclosed trailers used in terminal to terminal – not ideal if you are transporting a classic or vintage vehicle
Exposure to the elements while your vehicle is at the terminal
The drawbacks of terminal to terminal transport are significant, and most consumers opt for the more convenient, traditional door to door open transport. Time from booking to vehicle delivery is much shorter with the door to door method. However, if you don't mind the inconvenience of having to drop off, pick up your vehicle from a terminal, and have your car exposed to potential mayhem and the elements, this method may be for you.
The Economics of Terminal to Terminal Auto Transport
The economics of auto transport largely depend upon the convenience of delivery method. From a carrier's perspective, the least convenient and most expensive type of transport is a single-vehicle shipped door-to-door in an enclosed transporter. And, from their perspective, a more convenient, more economical method is terminal-to-terminal shipping. The terminal method saves carriers time and expense as they combine shipments to regional terminals.
The savings in transportation costs are somewhat offset by terminal storage fees, particularly if you miss the appointed pick-up date and incur penalties. In the past, terminal to terminal services were generally less expensive. Today, however, there are far fewer carriers willing to transport to terminals.
When one combines the benefits of door to door versus any minimal savings of terminal-to-terminal, the apparent choice is door to door.
Frequently Asked Questions: Terminal To Terminal Auto Transport
Final Observation on Terminal to Terminal Auto Transport
We all want our vehicles to make it to the appropriate destination, safely, on time, and in the same condition as pre-shipping. The terminal to the terminal method still provides a reliable way to have your vehicle transported, if you don't mind the logistical obstacles; the method may make sense for you.
Although we generally recommend open transport door to door, we can provide terminal transport services. If you are searching for a terminal to terminal auto transport quote, please fill out our free online quote request form.
You can fill out our free online quote request form right here on our website for a free quote or you can call us toll-free at 800-553-1828 for a free auto transport quote calculated by one of our friendly and experienced staff members. We work hard to make sure your transportation experience is the best we can make it, bar none.