WHAT IS TERMINAL TO TERMINAL AUTO TRANSPORT?
The automotive transport industry has changed a lot in the past few decades, and many of the old methods of transport are on their way out. If you are looking into automotive transport you might have heard that the terminal to the terminal method is a more affordable way to transport your vehicle.  While that was true over a decade ago, these days that is no longer the case.  The additional cost goes to the facilities holding your vehicle who charge per day.  Terminals charge anywhere from $15 per day to $35 per day depending on the location.  Facilities near Inner cities usually cost more.  There are quite a few drawbacks to the terminal to terminal transport business and that's why it has become a dying part of the viable auto transport industry. When you transport a vehicle to a terminal the process is much more complicated, and the company that's transporting your vehicle is more limited in what they can transport and what they can't.
For instance, if you own a lifted Chevrolet pickup truck with a good deal of modifications most terminal to terminal transport companies will not be able to assist you in the transport of your vehicle. The terminals are very limited in what they can house, and in today's world, there are less and fewer terminals becoming available for any type of cargo. While terminal to terminal can save you some money in a lot of ways, the drawbacks are too much for the average consumer who just needs door-to-door transport to their new home. Another issue with the terminal to terminal transport is that there are no enclosed trailers in use, which means that if you have a classic or valuable vehicle that you are trying to transport it won't be protected like it would during the enclosed method of transport.
SCHEDULING TERMINAL TO TERMINAL
Scheduling a terminal to terminal transport can be difficult as well because most terminals to terminal transporters require that their truck has a full load before making the trip. Oftentimes you'll have to wait until enough vehicles have been booked, and this just puts a hamper on your entire moving process. Terminal to terminal transport might have some benefits cost-wise, but the drawbacks can end up setting your move back substantially. Whether you are new to the process of the terminal to terminal transportation or you are just looking for a most cost-effective option, open transport is a much more viable way to get your car where it needs to go.
The vehicle will be protected during open transport in a way that terminal to terminal and the railroad methods cannot. With the terminal to a terminal method, your vehicle will be sitting in a terminal, which puts it at a much higher risk of theft then the other method where it will be delivered straight to your front door. Still, there are going to be consumers who prefer the terminal to the terminal method, perhaps if you reside in a major metropolitan area such as San Francisco where street parking is limited and most residents live in some sort of high-rise. In a highly populated setting the terminal to terminal method makes more sense, but if you live in an average area where you have a home it will make more sense to choose open transport.
The terminal to the terminal method for transporting vehicles has been around for a while, and for the most part, it still provides a stable way to get your vehicle transported. But, the drawbacks to the average consumer are much higher than just getting an open transport to move your vehicle. If you don't mind having to go pick up your vehicle from a terminal and have it exposed to the elements then the terminal to the terminal method is probably going to be for you. But, if you want the convenience of having your vehicle delivered to your front door you'll appreciate the traditional automotive transport method much better.
The result is that we all want our vehicles to make it to the right destination, safely and in one piece. Chances are that you don't feel like driving your car across the country to get it moved, and this is where most forms of automotive transport come into the picture. If you don't mind the logistical obstacles it might make more sense for you to transport your vehicle via a terminal to terminal, but if you just want your vehicle to make it to your new home safely and on-time the traditional vehicle transportation method is going to be the way to go. You'll get the peace of mind of knowing that your vehicle is safe, and you'll have your car make it to the new destination in one piece.
 WHAT HAPPENED TO TERMINAL TO TERMINAL?
Terminal to terminal auto transport is a method of auto transport that many companies are no longer providing, or if they do it is in a very limited capacity.
It is a dying part of the auto transport industry, as many terminals are closing because fewer people are utilizing terminal transport services.
Carriers prefer door-to-door auto transport over terminal to terminal as well, and many customers are finding that while door to door may be slightly higher in cost it is more than worth it because the overall time from booking to vehicle delivery is so much shorter with door to door shipping than terminal to terminal. However, there are still terminals out there that provide storage services for vehicles being transported, and in this article you will learn more about how terminal to terminal auto transport works and how we can help you find it.
CHEAP CAR SHIPPING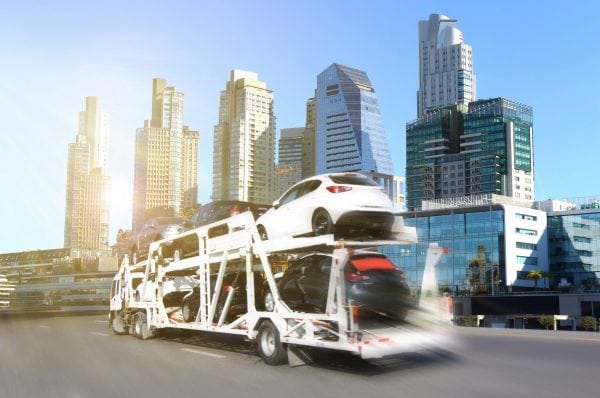 Nowadays, the convenience of Terminal transportation is generally a good thing, especially if you're in a situation where you don't necessarily need the car moved right away but you yourself need to get it off your hands. If you're in that kind of situation, a terminal can be a great way to go – cheap storage costs and the promise of transport after a while can be a good way for you to sort of kill two birds with one stone. However, most customers don't need something this specific, so more often than not door to door service is what most people prefer.It is a known fact that terminal transportation services were generally cheaper than door to door years ago, but the reason why this is is because the service that you get with terminal shipping is generally not as superb. There are not nearly as many carriers willing to transport vehicles terminal to terminal as opposed to door to door, mainly because terminal shipping limits them in terms of what they can haul and what they can't. Carriers don't like traveling to terminals unless their trucks are going to be filled, and with the way most carriers schedule loads (a few days ahead of time for pickup), picking up from a terminal can be difficult because they never have enough room on their trucks, and by the time they do the loads are long gone, hauled by someone else.
We can provide terminal transport services if you are interested, though generally we'd recommend open transport. If you are searching for a terminal to terminal auto transport quote you can fill out our free online quote request form or give us a call toll-free at 800-553-1828 to speak to one of our live auto transport representatives who can give you a quote, answer your questions and help you book your order. With Mercury Auto Transport, you just can't lose.
Frequently Asked Questions about Terminal to Terminal Transport
What is terminal to terminal auto transport?
Terminals are secured parking lots that offer to hold your vehicle while it waits to be shipped at the origin and or holds your vehicle at the destination until you are ready to get it.
What if I only need to use a terminal at one location?
You can Ship terminal to terminal, but you may only need to use a terminal at one location such as the destination.  In that case you can ship the vehicle door to the terminal.
These are especially great if you don't have anyone that can meet the driver at either end of the transport.
Is Terminal to Terminal shipping cheaper than door to door?
Terminal to Terminal can cost a bit more.  Years ago terminal to terminal used to be a more economical way of shipping a car and it would take a bit longer for the shipment to go from point A to B.
Since door to door transport became the premier way ship since early 2000's the tide started turning and all of the large terminal to terminal companies such as DAS have either closed down or have changed their model. 
Nowadays, there are no terminal to terminal companies covering the entire United States and it's also considered a convenience.  It is a convenience since you can set the time to drop off or pick up your vehicle without having to wait for a driver to call you to meet them on their schedule. 
The additional cost goes to the terminals for holding your vehicle. The amount depends on the location's daily rate multiplied by how many days you'll need them to hold your car. 
How much to Terminals Charge?
Terminals charge anywhere from $15 per day to $35 per day depending on the location.  Facilities near Inner cities usually cost more.
If you think you need to use a terminal at either or both locations our agents can help you secure the right facility and find you the most cost effective solutions for anywhere in the United States.
OUR TRUSTED VEHICLE SHIPPING PARTNERS
HOW AUTO SHIPPING WORKS

REQUEST A QUOTE
First, we post your vehicle through our network, including all National Dispatch Boards for Auto Transport. This is where all licensed auto transport carriers can see your vehicle is available for shipping.

BOOK YOUR ORDER
We present offers from FMCSA Licensed and Insured Carriers. When you accept an offer, we send your service agreement that guarantees the price, door-to-door service and 100% bumper to bumper insurance. There are never any hidden fees or charges, guaranteed.

VEHICLE IS PICKED UP
Not until you approve your carrier and final logistics is your deposit due. Your deposit is included in your quote and goes toward the total price. The remaining balance is due at time of delivery. Nothing gets done without your approval.

VEHICLE IS DELIVERED
Your driver will contact you prior to your pickup and delivery dates to schedule a time for loading and unloading. Once your vehicle reaches its destination, you do a final inspection of your vehicle and pay the driver the remaining balance. You and the driver both sign the Bill of Lading and each keep a copy.
GET A VEHICLE SHIPPING QUOTE WITHIN MINUTES