FREQUENTLY ASKED QUESTIONS
IS MERCURY AUTO TRANSPORT LICENSED, BONDED AND INSURED?
Mercury Auto Transport is licensed, Bonded and Insured. Our FMSCA Motor Carrier Number is MC647319.
While we do our best match your auto shipping needs with the most responsible carriers with the best track records, from time-to-time there may be accidental damage while in transit, it is good to know that the insurance of the carrier we locate for you will protect your auto shipment in that event.
HOW IS MY QUOTE DETERMINED?
We feel it's important for you to know how we determined this quote. Quotes are based on what the market demands for cars to be moved at a given time. Each quote is compared with the current rates on the National Load Board before being sent to our customers and will be reviewed periodically through the process.
Other companies might offer you a lower price to obtain your business. This method is ineffective because if the car does not pay the correct amount of money, it will run the probability of not getting loaded or transported on time. You will not get this information from our competitors. Truck drivers always take the loads that pay the most first, leaving the loads that are mispriced to be moved last or not at all. We try very hard to avoid this with our customers by quoting a fair but realistic quote up front. Visit our How we determine your quote page for more information.
HOW LONG WILL MY TRANSPORT TAKE?
0-500 Miles:1-2 Days
501-1,000 Miles:2-3 Days
1,001-1,500 Miles:3-5 Days
1,501-2,000 Miles:4-7 Days
2,001-2,500 Miles: 7-10 Days
2,500+ Miles:10-14 Days
Once your designated carrier is assigned you will receive a precise ETA for your shipment.
HOW QUICKLY CAN MERCURY LOCATE A REPUTABLE CARRIER TO SHIP MY VEHICLE?
That's mostly up to you!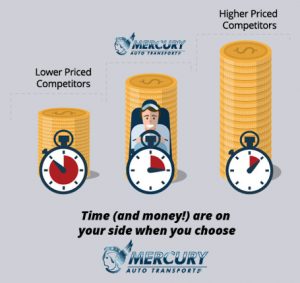 Drivers respond quickest to bids that are both on their route and priced fairly.
We help you price your bid to give you the best chances of getting your vehicle shipped in the timeframe that meets your needs.
WHAT IS AN AUTO TRANSPORT QUOTE PROVIDER?
Chances are, if you're reading this right now you found us through an auto transport quote provider. Quote providers are companies that operate primarily on the internet and advertise for us brokers. When you fill out their form on their website your information will be sent to anywhere from 5-12 brokers, just like us, who will look at your information, calculate a quote and then e-mail it to you and maybe call you, if you provided your telephone number. Most brokers rely on auto transport quote providers for a majority of their business; our website is here as an additional resource for our customers, but most of our customers find us through one of the online quote providers that we work with to find customers. They are usually a customer's first stop when looking for auto transporters. They won't move your car – they just get you in contact with companies that will (like us).
WHAT IS AN AUTO TRANSPORT BROKER?
Auto transport brokers are the companies that you will always want to book your transport with. Not only are they easy to find (carriers are not), but they will make sure that you get a good price on your auto transport and that you only work with certified, licensed carrier companies – or at least we here at Mercury Auto Transport make sure you will. We facilitate communication between you and the carrier; we do all the legwork for everyone and make sure that things get done and scheduled and that your vehicle ultimately gets picked up. We may not physically move the vehicle ourselves, but without us the carriers would never be able to get anything moved: they'd be spending too much time talking to you instead of driving! So we'll talk to you – all day long if you want – because that's what we do here at Mercury Auto Transport.
WHAT IS AN AUTO TRANSPORT CARRIER?
Lastly, the auto transport carriers, which you've read plenty about so far we're sure. If you haven't guessed by now, carriers physically transport your vehicle from Point A to Point B. They are vital to the industry, as without them vehicles would not be transported at all. They don't have the time or resources to spend all day chatting with customers, and they rely quite heavily on us to find loads for them to transport. Carriers run on specific routes and search for vehicles that need transporting along the routes they service; as such, there are thousands of carriers out there transporting across thousands of routes. Some routes are easier to find a carrier on than others, but regardless, you won't be able to book with a carrier directly – they don't want you to, they want you to book through us so they can keep things in order. Make sense?
We here at Mercury Auto Transport only work with the best auto transport carriers in the industry to transport your vehicle, and you can rest easy with the knowledge that your vehicle will be in good hands when you book with us. You can fill out our free online quote request form or give us a call toll-free at 800-553-1828 to speak to one of our live auto transport representatives who can give you a quote, answer your questions and help you book your order. With Mercury Auto Transport, you just can't lose.
WHAT IF MY DROP-OFF OR PICK-UP LOCATION IS INACCESSIBLE FOR THE TRUCK?
Most auto transport trucks are quite large, up to 75 feet long. This sometimes makes it impossible to reach many residential areas.
If that's the case with your auto move, your carrier will attempt to get as close as possible to your delivery location. We can also arrange a convenient location, like a shopping center, to either pick up or deliver your vehicle.
In some cases, we may also be able to negotiate a better rate for you to ship your car if you are willing to meet your driver at a more accessible, convenient location that works for both of you.
WHY HAVE I BEEN ASKED FOR MY CREDIT OR DEBIT CARD NUMBER?
We do not collect a deposit from you until your car is actually assigned to be picked up by a reputable driver for a price you approve.
We do, however, take your credit card information before we begin to work on finding you a carrier.
We do this because it is very common for customers to "double book" with multiple brokers thinking this will give them a better shot at getting their vehicle dispatched. In fact, all brokers are using the same resources to find a carrier for your vehicle. So when a car is "double booked" it only delays the process and confuses the carriers who are searching for their next vehicle to pick up on their route.
By taking your credit card information in advance, it allows us to work on finding you a driver in good faith for our efforts.
If we fail to find you a carrier at a price you are comfortable with there are NO CANCELLATION FEES and your card will NOT be charged. We only ask that you let us work on getting you the best carrier at the best price present their offers to you.
By giving us the assurance of your credit or debit card, we will do the best job possible to get you picked up on the dates you request for the price you want by a reputable carrier. We do not get paid until you get a driver dispatched to ship your vehicle, so it is always in our interest to do the best job possible for you.
No. There will never be a "cancellation fee", fuel surcharge or any other unnecessary purging of the human spirit.
HOW IS MERCURY DIFFERENT?
This is the most important distinction between Mercury Auto Transport and most other brokers.
We do not collect a deposit from you until your car is dispatched to a reputable driver for a price you agree on.
1. We do, however, take your credit card information in good faith before we begin to work on finding you a carrier. We do this because it is very common for customers to "double book" with multiple brokers thinking this will give them a better shot at getting their vehicle dispatched.
2. In fact, all brokers are using the same resources to find a carrier for your vehicle. So when a car is "double booked" with multiple brokers, it only delays the whole process and confuses the carriers who are searching for their next vehicle to pick up on their route.
3. Our required deposit per vehicle ranges from $175 – $250 depending on the variables regarding your route. Once you accept a bid by a reputable transporter, we then charge you the deposit required to send the carrier.
4. You pay the driver the balance of the transport fee CASH or MONEY ORDER on delivery (C.O.D.).
There are NO hidden fees, cancellation fee, additional costs or surcharges after you agree on the total price. EVER.
This method of handling payments ensures that we will not stop working for you until you are completely satisfied. It is in our best interest to make sure you are satisfied with every aspect of your auto transport because WE DO NOT GET PAID UNLESS YOU GET TRANSPORTED.
CAN I PACK ANYTHING IN THE TRUNK OF MY CAR DURING THE TRANSPORT?
Generally, we recommend that you do not ship any personal belongings inside your vehicle during your transport. However, a few small items packed in the trunk are acceptable.
CAN I PAY WITH A CHECK?
Yes. Please mail check or money made payable to:
Mercury Auto Transport
2240 SW 70th Ave., Suite H
Davie, FL 33314
This page is regarding our FAQ on payment for auto shipping. We focus on making your payment and auto transport quick and easy. Please refer back to our FAQ for more questions and answers about car shipping nationwide. Remember when searching for an online car transport company state to state it's important that you understand each step of the auto shipping process.
IS THE CAR KEPT ON THE SAME TRUCK THE WHOLE TIME?
Yes, the vehicle is kept on the same truck the entire time.
IS FULL PAYMENT MADE AT DELIVERY OR IS A DEPOSIT REQUIRED?
Once you agree and sign off on the price, there is a deposit of $175 that is placed on your credit card. The remaining balance is not paid until the vehicle has been delivered to your designated destination. It is paid in either cash or money order. Most carriers don't accept credit cards, and even if they do, there is a 5% fee attached to it. So I always recommend cash or money order.
IS PICKUP AND DELIVERY MADE AT THE ACTUAL ADDRESS SITES OR IS IT IN THE GENERAL AREA REQUIRING THAT WE DRIVE THE CAR TO A LOCATION. AND IF THE LATTER IS THE CASE, HOW FAR WOULD THAT BE?
We use pickup/destination addresses in the system however, the driver normally locates a nearby place where the truck can fit and where there are no trees.
IS THERE A WAY TO TRACK THE VEHICLE DURING SHIPMENT?
You will have access directly with the driver while your vehicle is in transit. The driver will give you updates and can also contact the carrier at any time as well.
IS THE SHIPMENT TIME FRAME GUARANTEED?
Time-frames are not guaranteed because it is transportation. Similar to plane travel, if there is bad weather or the circumstances are outside of control there can be delays. However, they are usually on time and always in communication either way.
IS THE PRICE FIRM?
Yes, once you approve the carrier the price is guaranteed. In fact, this would be one of the better points I like to mention on why I would recommend using us; We guarantee the price with the carrier so there is no confusion or surprises.
WHAT ARE MERCURY'S TERMS AND CONDITIONS?
1. Mercury Auto Transport agrees to have vehicle(s) described in this shipping form shipped on or about the dates requested. Mercury Auto Transport will find a licensed Carrier (agent) to fulfill the terms and conditions of this agreement. Mercury Auto Transport does not guarantee a specific pickup or delivery date. The normal pick up time frame is within one to three business days from the first available pickup date.
2. This order is subject to all terms and conditions of the Carrier's bills of lading, copies of which are available at the office of Carrier and are incorporated herein.
3. Carrier's responsibility begins when the shipper or his agent signs the bill of lading at pickup, and terminates when the shipper or his agent signs the bill of lading at delivery. Mercury Auto Transport must be notified, should the shipper be unavailable for pickup or delivery, and his agent must be designated at that time. If a carrier is sent out and vehicle cannot be picked up there will be an additional $75.00 rescheduling fee.
4. Mercury Auto Transport hereby notifies shipper that their vehicle will be driven on and off the transporter, or to and from the transporter at the pickup or delivery site. Should the carrier be unable to access either site, this does not relieve the consignee from making a reasonable effort to meet the truck at a suitable location. In order to fully deliver your vehicle you must be willing to travel to the designated pickup or delivery point.
5. Unlike numerous other shippers, we do not require any money from you until the day your vehicle is assigned to your designated carrier. At the time you place your order, a credit card is provided to be kept on file. Your credit card will be authorized at the time you place your order. On the date your vehicle is dispatched to the carrier, we will process that payment for the deposit. The balance is due at delivery with cash or cashier check directly to the carrier. *Please ask about our off-shores, overseas, or out of country payment policy.*
6. Mercury Auto Transport does not guarantee transport by any specific driver/carrier.
7. If you are shipping an inoperable vehicle, you may be required to help load and unload said vehicle at the discretion of the driver. Should vehicle(s) become inoperable during transport, $150.00 will be due at time of delivery in addition to any other moneys owed. It is shipper's responsibility to make sure vehicle is in proper working order. Problems, such as but not limited to, a dead battery, bad alternator, loose cables, etc. that makes the vehicle inoperable during transport will increase the transport price by $150.00.
8. Mercury Auto Transport or its agents will not knowingly transport vehicles with personal or household items in the passenger or trunk compartment. Federal regulation prohibits Mercury Auto Transport or its agents from doing so. If such items are shipped unbeknownst to Mercury Auto Transport or its agents, such items become the sole responsibility or the shipper. Should damage occur in your car you will be subject to additional fees at the discretion of the transport company. This is Federal Law and under no control of Mercury Auto Transport.
9. Mercury Auto Transport or its agents will not be responsible for vandalism, acts of God (fire, flooding, hail, sandstorm, tornadoes and earthquakes) or objects flying from the road or sky during transport. Shippers should maintain their own insurance for these reasons. Enclosed transport is available at a higher price if necessary to ensure the condition of the vehicle.
10. Shipper is responsible for preparing the vehicle(s) for transport, all loose parts fragile or protruding accessories, low hanging spoilers, fog lights, antennas, etc., must be removed and/or properly secured. Any part that falls off in transit is shipper's responsibility, including damages done by said part to any and all vehicles involved.
11. If damage should occur, all moneys owed for transport must be paid to initiate a claim. You can alternatively work out a cash settlement with the remaining amount owed to the carrier if they (the carrier) are willing. If you are filing a claim, damage must be noted in the proper place on the bill of lading, and signed by driver and shipper, regardless of weather, or time of day. Signing the bill of lading without any notation of damage verifies that shipper or his agent has received the said vehicle in good condition, and that Mercury Auto Transport and its agents are relieved of any further responsibility. Shipper or their agent MUST check vehicle thoroughly.
12. Mercury Auto Transport and its agents must also be notified of any damage by phone within 24 hours. Shipper must submit in writing a description of damage, clear pictures, and 2 estimates within 10 days of receipt of said vehicle directly to the designated carrier for any resolution to be initiated. Mercury Auto Transport will support you in this effort should such a problem occur, but in no way will Mercury Auto Transport accept responsibility for any negligence of the assigned carrier. If your vehicle is valued at a higher than market rate, we suggest you purchase a special insurance rider and/or pursue the enclosed transport option.
13. Shipper specifically waives any right to judicature of this matter at any other location than Broward County Florida. Mercury Auto Transport can only be liable for up to the amount of the deposit located on your quotation. In no case can Mercury Auto Transport be held liable for the designated carrier's damage or delays. Mercury Auto Transport will provide carriers insurance certificate and carrier information should any controversy arise.
14. If you place an order with us, you have the option to cancel any time prior to your vehicle being assigned to a transporter. If your vehicle is dispatched to a transporter before you fax or email your cancellation, you will lose the amount of the deposit. If you cancel your order prior to assignment of a Carrier you will receive a FULL refund of all monies paid to Mercury Auto Transport and no more. It is Mercury Auto Transport's goal to only get paid if we perform the service of Auto Transport Broker. If a Carrier is assigned to your order and then you cancel your order, for any reason, a $75 fee must be paid to the Carrier for gas, logistics and lost fees. If a carrier is assigned to ship your vehicle and due to carrier delays they do not load your vehicle within five business days from your first available pickup date as noted on your shipping form you may elect to cancel and receive a full refund or have Mercury Auto Transport assign a different carrier.
15. Mercury Auto Transport is a licensed and bonded Property Broker. We are responsible for booking the shipment of automobiles with a licensed Motor Carrier Corporation, who handle their own damage claims. It may take a few weeks to process your claim, since the drivers must return to their terminals with the original Bill of Lading condition reports. Mercury Auto Transport provides the services of finding an FMCSA licensed carrier (Department of Transportation), and logistically bringing the Carrier and the Customer together.
16. Mercury Auto Transport will not be responsible for demurrage at any Port Facilities.
17. By submitting your order online, Mercury Auto Transport understands you are placing your order and accept the terms and conditions (in lieu of your signature) found here and on Mercury Auto Transport website at Mercury FAQ's Website Page. By paying Mercury Auto Transport your deposit via Credit Card, PayPal or Check, you are agreeing to all of these Terms & Conditions.
18. Customers must make their vehicle available during the transport time, if the vehicle becomes unavailable at any time after the order has been place and a carrier has been assigned, Mercury Auto Transport holds right to cancel the order and proceed with the cancellation policy.
19. Mercury Auto Transport is not responsible for any storage, rental cars or any other additional costs due to a carrier delay.
20. The insured carrier that is doing the actual shipping is the only party responsible for any claims. Customer accepts the carriers terms by releasing the vehicle to the carriers possession. Customer can get carrier's terms for filing claims at pickup or delivery by request or request them by phone or email directly to the carrier. Neither Mercury Auto Transport nor its agents shall be responsible for any damage whatsoever including the following:
Damage to undercarriage, exhaust system, suspension, wheel bearings, tie downs, brakes, alignment, tuning, charging system or battery. (No evaluation is made of these components or systems at pickup location) therefore Mercury Auto Transport or its agents do not accept responsibility for them.
Damage not detected at pickup location due to poor weather or lighting conditions.
Damage to car phones or antenna under any condition (suggests that they may be removed).
Loss of or damage to audio or video equipment not installed at the factory. Including antenna that does not retract to within 3 inches of the vehicle's body.
Damage or fines incurred because shipper left personal or household items in the vehicle.
Damage caused by fluids or objects flying up from the roadway, or out of the sky.
Damage to cloth or vinyl convertible or decorative tops over 2 years old.
Damage to T-tops, boots, bras, caps, or any other type of canvas covering.
Damage caused by leaking fluids, such as battery acid, motor oil, transmission fluid, brake fluid, power steering fluid, radiator coolant, or fallout resulting from acts of God.
Damage caused by freezing of cooling system and/or battery.
Damage caused by failure of factory tie-downs or pull through from tie-down holes.
Damage to, or caused by any vehicle that cannot be driven on or off the transport under its own power. (Vehicle will not run, or has lost its braking system).
21. By shipper's signature or agent's signature, the motor carrier transporting the vehicle and their employees jointly and separately are authorized to operate and transport the vehicle from point to point or origin to the destination specified in the Bill of Lading.
22. Customer warrants that he or she is the registered owner and or has been authorized by the legal owner to act as agent for the registered owner and has the authority to enter into this agreement as or on behalf of the owner.
23. We have included the link for condition report procedure which includes what you should expect at pickup and delivery, what to do if there is damage, a SAMPLE Bill of Lading (BOL) and Checklist to be prepared. If you have not read the Condition Report Procedure & Checklist, this is the link, please read it as soon as possible: Condition Report Procedure & Checklist
GET A VEHICLE SHIPPING QUOTE WITHIN MINUTES
OUR TRUSTED VEHICLE SHIPPING PARTNERS
HOW AUTO SHIPPING WORKS

REQUEST A QUOTE
First, we post your vehicle through our network, including all National Dispatch Boards for Auto Transport. This is where all licensed auto transport carriers can see your vehicle is available for shipping.

BOOK YOUR ORDER
We present offers from FMCSA Licensed and Insured Carriers. When you accept an offer, we send your service agreement that guarantees the price, door-to-door service and 100% bumper to bumper insurance. There are never any hidden fees or charges, guaranteed.

VEHICLE IS PICKED UP
Not until you approve your carrier and final logistics is your deposit due. Your deposit is included in your quote and goes toward the total price. The remaining balance is due at time of delivery. Nothing gets done without your approval.

VEHICLE IS DELIVERED
Your driver will contact you prior to your pickup and delivery dates to schedule a time for loading and unloading. Once your vehicle reaches its destination, you do a final inspection of your vehicle and pay the driver the remaining balance. You and the driver both sign the Bill of Lading and each keep a copy.