Auto Transport by Rail
Get your quote now.
Auto Transport By Rail
There was once a time when the railroad system controlled all of the freight that was going through the United States, and that's because the cargo truck technology at the time was still on horse and buggy and transporting anything that way could take weeks or months. The railroad was a revolution in many aspects when it came to transporting, and getting across the country even by vehicle can take a fair amount of time. Nevertheless, there are going to be times where we have to relocate, whether it's because of a job opportunity or a family member. And, if you have more than one vehicle transporting them by driving can become a pain.
You might have been considering various ways to transport your vehicle, and it can seem like a plethora of information is available but making the final choice will come down to price and practicality. Shipping your vehicle by rail is no longer a preferred method for moving your vehicle across the country. You might be wondering why rail isn't an effective way to transport your vehicle, the rail system is not what it used to be and the method of transporting vehicles by train can actually be costlier then obtaining a carrier to do the job. Part of the reason is the fact that a train has a fixed destination, whereas an auto carrier has multiple stops along the way. These multiple stops allow the carrier to divide the cost among multiple vehicle owners, instead of just you.
There is also more risk of vandalism with the railroad method because cargo rail cars are not secure by any means and if you have an expensive vehicle the rough ride of the tracks can make the entire trip a risky proposition. Road transport is a much more effective and safe option for transporting your vehicle across the country, and you'll notice that your vehicle will make it to its destination promptly whereas the railroad method will take much longer. Automotive transport has come a long way in terms of technology and refinement, and an enclosed vehicle transport will keep your vehicle safe from the elements and ready to drive when it makes it to its destination.
The routes for the automotive rail transport system are extremely limited, and you can expect to pay a pretty penny to get your car shipped anywhere by rail. Automotive carriers have a much broader spectrum to travel, and the auto transport of your choice can deliver your vehicle right to your front door. The rail transport method involves your vehicle being dropped off at a cargo depot, and there are all kinds of issues that can arise with this not to mention the incontinence if you have a career. When it comes to your vehicles safety and the general process of shipping your vehicle the process of doing it by rail is just not going to make any sense.
The right automotive transporter will take the time to go over the various options with you where it comes to loading your vehicle up, and getting it to its destination. The process is not a hard one once you find the right transport company and the result with being an accomplished move with your vehicle making it to your new destination. Automotive transport by the carrier is a much more effective option if you need to get your car moved and you don't want to deal with the headache of trying to transport it yourself. For collectible vehicles, many auto transport companies offered climate-controlled enclosed trailers, which keep your vehicle nice and tidy even if the weather conditions are otherwise. There is no denying the benefits of automotive transport, and if you need to move without the stress this is how you do it.
But, if you are only needing your vehicle to be transported for a small distance you can also obtain an open-air automotive transport as well. These are generally a more cost-effective way to get your car from point a to point b, without the higher cost of an enclosed trailer. Either way, the method of transporting your vehicle by auto transport truck is a much more viable option then the railroad system. Transporting cargo by rail might still work for other industries, but when it comes to moving your vehicle the process of transporting it by rail is simply going to be a time-consuming mess. You'd be hard-pressed to find a more effective method for transporting your vehicle during a move than the traditional method of automotive transport via semi-truck.
Auto transport by rail was once quite a popular method of auto transportation in the industry, but has fallen off as other auto transport methods have risen in popularity. It was great because when the railroads were used extensively it was the cheapest and quickest way to transport your vehicle. However, with the advent of the modern car carrier and the continual logistical advancements that have taken place over the past forty or fifty years, auto transport by rail is not nearly as popular as it once was. There are far fewer routes for rail service today because so many companies have stopped providing rail service because it is not cost effective when compared to transport by overland truck.
Rail Freight vs Road Freight
We here at Mercury Auto Transport don't work with any auto transport by rail services because there are so few out there that providing rail service really isn't cost effective for you or for us. We would rather work with you to get your vehicle moved by a car carrier because it will save you a lot of money when compared to transport by rail, and it is much quicker and you have more control over when and where your vehicle is picked up. With standard transportation methods you don't have to drop your vehicle off at a rail terminal and you don't have to worry about it waiting at the terminal until it is loaded onto the train.
Rail vs Road Efficiency
Usually auto transport by rail services haul hundreds of cars at a time, so it's more common for auto manufacturers to move a lot of vehicles along the rail at once to several different areas, where they are then taken to local dealerships not far off the rail line. But these are for commercial purposes, for big-name manufacturers to get their vehicles into showrooms across the United States, and even then a lot of times they'll ship by truck as opposed to train anyway because it's cheaper and quicker. But there are some, especially out of Florida, which seems to be the most popular auto transport by rail state. But still, even shipping out of Florida the routes available for transport by rail are quite limited and small in number – it's generally easier to ship by truck than by rail.
If you are searching for a free auto transport quote you've definitely come to the right place. We here at Mercury Auto Transport only work with the best carriers in the industry to transport your vehicle, so you know that if you book with us your car will be in good hands. You can fill out our free online quote request form or give us a call toll-free at 800-553-1828 to speak to one of our live auto transport representatives who can give you a quote, answer your questions and help you book your order. With Mercury Auto Transport, you just can't lose.
There are several ways you can ship a car.  The options include enclosed trailer, open carrier transport, flatbed truck, door to door shipping and to or from a terminal as well.  The most popular of the options is 7 to 10 car open carrier.  These large trucks can accommodate almost any size vehicle including cars, SUV's, trucks, jeeps and vans.
Open car transport, door to door is also the best way to get the cheapest auto transport rate possible.  To learn more and see what transport method is best for you, please fill out our free quote form and one of our representatives will respond to you within minutes.  You can also call us at (800) 553-1828.
Shipping a vehicle can be stressful if don't know what to do.  This is why we believe it is paramount to have our highly trained agents be your main point of contact from start to finish. 
They will go over everything you need to know so you can relax.  In the meanwhile, we prepared you this checklist.  This includes everything from pickup to delivery and how to make sure your car is ready for pickup.   
When it comes to car moving, we want you to be ahead of the game!  For any questions and further assistance our agents are standing by, (800) 553-1828.  Please read our checklist to prepare your vehicle to learn more.
While understanding auto transport insurance is not rocket science, we think it's valuable to explain how it works.  As part of providing a great car transport service, it is our job to guarantee that the carrier we assign to pickup your vehicle is licensed and insured.  Click here to check out our license.
When you go with Mercury to ship your vehicle, you can rest assure that the carrier assigned to move your car is fully insured and licensed with the FMCSA (Federal Motor Carrier and Saftey Administration).
Your vehicle is covered by the carrier's insurance policy that is doing the shipping.  Depending on the type and size of the truck/trailer that is shipping your car, the insurance policy can cover from $100,000 to $1,000,000 of damage.
We have also provided a checklist to explain what you need to do at both pickup and delivery in case there are any issues so, you can file a claim and know that everything will be taken care of.
It is rare but, time-to-time there may be accidental damage while in transit and it is good to know that your carrier's insurance will protect your auto shipment in that event.
To view a sample BOL (Bill of Lading) and learn what to do in case of accidental damage, please check out our Condition Report and Procedure checklist.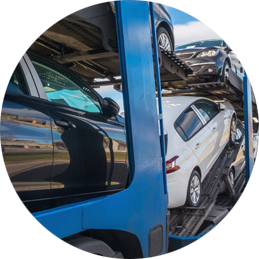 OPEN AUTO TRANSPORT
Open auto transport carriers are considered the standard carrier in the industry today.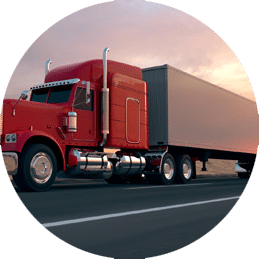 ENCLOSED AUTO TRANSPORT
Enclosed auto transport carriers are not as readily available as open carriers but…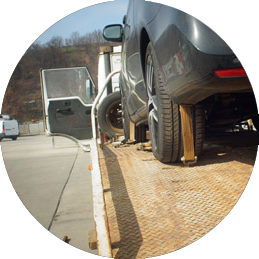 FLATBED AUTO TRANSPORT
Flatbed carriers are the least-used transporters, required only for vehicles…