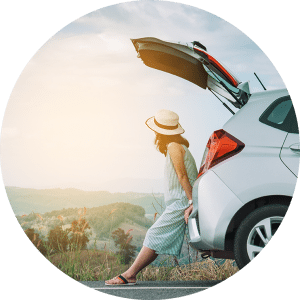 We feel it's important for you to know how we determined this quote. Quotes are based on what the market demands for cars to be moved at a given time. Each quote is compared with the current rates on the National Load Board before being sent to our customers and will be reviewed periodically through the process.
Other companies might offer you a lower price to obtain your business. This method is ineffective because if the car does not pay the correct amount of money, it will run the probability of not getting loaded or transported on time.
You will not get this information from our competitors. Truck drivers always take the loads that pay the most first, leaving the loads that are mispriced to be moved last or not at all.
We try very hard to avoid this with our customers by quoting a fair but realistic quote up front.
2 MOST IMPORTANT POINTS TO KNOW
Customers that have shipped a vehicle in the past will leave feedback about their shipping experience. Please take a moment to see what our past clients have said about us:
For reference, here are some popular sites you can read our reviews:
Transport Reviews
Google Reviews
Facebook Reviews
To recap basic criteria, PLEASE follow 2 steps for a stress-free move:
Do not pay an upfront deposit without a confirmed carrier.
Reference everyone with a check on their BBB Rating and Reviews on Multiple Sites.
When you are free, please contact us so I can give you a better explanation of the industry. Give me 7 days and I can get you the best price and with a reputable 5-star carrier.
HOW BROKERS LOCATE CARRIERS
We would also like to explain a bit about how individuals go about shipping a vehicle. Every quote that you are receiving from your request on the internet is coming from brokers, like ourselves.
Brokers do not have any trucks. These dollar amounts you are receiving be it by phone are email or all estimates, and not at all a firm price. In order to find a carrier for you, there is only one place for brokers to go, Central Dispatch (National Dispatch Board for Auto Transport).
Any company you choose to do business with will post your vehicle to The National Dispatch Board, and on the other end is 5,000 drivers that are seeing what vehicles are available on their route, and are shipping whichever vehicles are offering the most money.
Because every broker is accessing all the same carriers to ship your vehicle. Choosing the right broker is vital to getting a reputable carrier for the lowest price possible.
Not all brokers are created equal in this talent. As such, we highly recommend working with a broker you feel is reputable, and one that you can trust.
Our function is to find the most reputable driver, that will accept the lowest price possible. Our company does an intense background check into each reputable carrier that has made an offer. We will check their ratings, references, and in addition, we verify a certified copy of their insurance certificate, directly from the government agency that it is on file with, just to ensure that everything is in proper order.
We will also see if any past clients have lodged any complaints against the carrier. There are no contracts to be signed until you have accepted a firm price from a reputable carrier. When you do accept an offer, we will immediately send you a contract that the carrier has signed that guarantees door to door service, guarantees 100% bumper to bumper insurance, and most importantly guarantees a firm price, so that there are no surprises at delivery.
What will Mercury Auto Transport need from you? An open line of communication will be the most important thing.
WHAT WE DO FOR YOU
What we do is call our network of carriers that frequent your route. At the same time, we post your vehicle to the National Board so your vehicle is exposed to literally every auto carrier in the country.
The only problem we can foresee is that when a carrier calls on your order, we need your approval or disapproval on choosing the best carrier for the best price meeting your pickup and delivery dates. Now most carriers will not wait a day or two for a decision, they will just pick up the next available vehicle on that route, so this is where the open line of communication comes in.
Once we locate a carrier we will reserve a spot on his trailer after you approve final logistics. At that point with your permission, your down payment (aka Broker fee) would be through us with Visa, Master Card, American Express, or Discover. The remainder is due to the driver in cash or money order on delivery.
Just so you know, this is how we work with everyone, so if we can keep an open line of communication with you, this will be very simple to handle. Our job is to do all the work, your job is to approve or disapprove of our work.
Nothing gets done without your approval so there are no surprises, just a smooth, hassle-free transport.
In addition to providing 9 a.m. to 9 p.m. customer service, we pride ourselves on educating all our clients, potential or otherwise.
OUR TRUSTED VEHICLE SHIPPING PARTNERS
HOW AUTO SHIPPING WORKS

REQUEST A QUOTE
First, we post your vehicle through our network, including all National Dispatch Boards for Auto Transport. This is where all licensed auto transport carriers can see your vehicle is available for shipping.

BOOK YOUR ORDER
We present offers from FMCSA Licensed and Insured Carriers. When you accept an offer, we send your service agreement that guarantees the price, door-to-door service and 100% bumper to bumper insurance. There are never any hidden fees or charges, guaranteed.

VEHICLE IS PICKED UP
Not until you approve your carrier and final logistics is your deposit due. Your deposit is included in your quote and goes toward the total price. The remaining balance is due at time of delivery. Nothing gets done without your approval.

VEHICLE IS DELIVERED
Your driver will contact you prior to your pickup and delivery dates to schedule a time for loading and unloading. Once your vehicle reaches its destination, you do a final inspection of your vehicle and pay the driver the remaining balance. You and the driver both sign the Bill of Lading and each keep a copy.
GET A VEHICLE SHIPPING QUOTE WITHIN MINUTES