How To Determine Your Quote
We provide this resource as we deem it essential that you fully understand how we determine your car transport quote. At Mercury Auto Transport, we believe that working with an informed consumer makes for the smoothest transactions and transports. Thus, our mission is to make your experience less stressful and more economical. Need a quote for your car shipping? Find out the factors that impact our quote, our process, and learn more about the strategies we employ to ensure the best price. This also includes the safest transport, and timely delivery of your vehicle to its destination.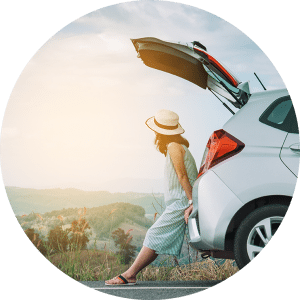 Additional Mercury Auto Transport Services
In addition to negotiating rates and timing on your behalf, Mercury does a thorough background check with each carrier for every shipment. We verify the carrier's ratings, references, and obtain a certified copy of their insurance certificate. Similarly, we ensure they are licensed with FMCSA (Federal Motor Carrier and Safety Administration). We also research to see if any past clients have lodged complaints against the carrier.
You can have peace of mind knowing that the carrier shipping your vehicle is the best and that there will be no surprises, guaranteed.
We sincerely hope to answer each of your questions related to Mercury's operation and provide a brief, Frequently Asked Questions segment.
Mercury Auto Transport Quote Process
First, just a bit of background, auto transport brokers, and auto shippers serve different roles, and it's crucial to know the difference.
Mercury is an Auto Transport Broker
As a transport broker, we do not ship vehicles. Rather, we charge a fee and find the appropriate carrier for you. We have access to a wide range of car transporters through National Dispatch Boards, and together with you, we can often strategize and negotiate far better rates. Not all brokers are created equal in this talent.
Auto Transport Carriers
Auto transport carriers do the actual work of picking up your vehicle and delivering it to your chosen destination. They are on the road full time and don't have the time, resources, or desire to interact directly with customers. They rely on auto transport brokers such as Mercury to find work.
Determining Your Car Transport Quote
First, we contact our network of carriers that frequent your route and post your vehicle on the National Dispatch Boards for Auto Transport – your vehicle is exposed to every auto carrier in the country. Prices are based on seasonal market demands for cars to be moved at any given time. Our car shipping quotes are prepared based on the season and the current national rates. We review these rates periodically throughout the process.
Our experienced transport coordinators will strategize to develop an appropriate price to offer carriers to meet your specific requirements.
Strategizing Offer Prices for Auto Transport
The car shipping industry is an open market system, much like a bidding system such as eBay. Your requirements and lead time are essential elements of strategy – the more time you have until your car needs to be transported, the more money you can save. We start negotiations with a lower offering to carriers seeking the most cost-effective rates, and increase the offer little by little, as needed.
Another strategy we offer is standby mode. This approach allows a carrier to fill an empty spot with your vehicle as a filler. If one of their loads gets canceled, your vehicle will move up in the available load list. This tactic saves you money and helps the driver to get a full load.
Remember, the lower the rate we are willing to offer, the more time it takes for the vehicle to be picked up, and conversely, the higher the rate we are prepared to offer, the less time it takes.
Why Mercury Auto Transport?
When you talk to other brokers, understand there is no fixed, final, or guaranteed price until your broker locates an appropriate carrier for you. Beware, companies that offer you lowball quotes to obtain your business. This method is ineffective – if the car does not meet current national rates, it will run the grave risk of not getting loaded or transported on time. Remember, this is an open market system, and carriers respond accordingly, leaving loads that are mispriced to be moved last or not at all.
At Mercury, our car transport experts endeavor to negotiate a fair, realistic quote and timeline upfront. Our function is to find the most reputable driver, that will accept the lowest price possible.
Factors Impacting Your Car Transport Quote
Mileage – the #1 Factor in Auto Transport
The most significant variable in the quote is distance – the number of miles from pick up to delivery impacts labor costs, fuel charges, and tolls.
Type of Vehicle Being Shipped
The size and weight of your car are important factors. Carriers have limits regarding the number of cars and the amount of weight they can haul; the heavier the vehicle, the more expensive to move. Luxury, vintage, and collector vehicles typically travel via an enclosed carrier, which also impacts rates.
Seasonality – in Auto Transports
The specific dates of your transport will affect your rate. Auto transport demand and rates peak in the Summer months.
Type of Service
When shipping your vehicle, you have options:
Open versus enclosed transport carriers – open carriers are the less expensive and a more popular method of transport
Door-to-door versus terminal-to-terminal – in addition to the transport rates, terminal-to-terminal also incurs storage fees
The Mercury Auto Transport Experience
Customers that have shipped a vehicle in the past often leave feedback regarding their shipping experience. Please take a moment to see what our past clients have said about us. For reference, here are some popular sites where you can read our reviews:
When selecting an auto transport broker, there are two buyer beware imperatives:
Never pay any upfront fees without a confirmed carrier
Validate all brokers through their BBB rating and reviews on multiple sites
The Important Stuff – Fees and Contracts
Any auto transport broker you choose to do business with will post your vehicle to The National Dispatch Board. Since every broker is accessing the same carriers to ship your vehicle, choosing the right broker is crucial to securing a reputable carrier for the lowest price possible.
There are no contracts to be signed until you have accepted a firm price from a carrier. Once we locate a transporter, with your prior approval of all final logistics, we reserve a spot on his trailer. When you accept the offer, we immediately send you a contract signed by the carrier that guarantees door-to-door service, bumper-to-bumper insurance coverage, and, most importantly, a firm price.
At that point, with your permission, your down payment, our broker fee, is due to Mercury via Visa, Master Card, American Express, or Discover. The remainder of your costs are due to the driver in cash or money order upon delivery.
Never pay a broker fee until you have a signed agreement. There should never be any hidden broker fees when dealing with a reputable broker. Seek a broker, such as Mercury, with a fair and relatively simple to understand all-inclusive fee structure that covers door-to-door service, tax, tolls, fuel, and insurance coverage. We reiterate, there should be no money down, no hidden charges, and no cancellation fees.
Frequently Asked Questions
Final Thoughts – Communication
What will Mercury Auto Transport need from you? An open line of communication will be the most important thing. When a carrier calls on your order, we need your approval to choose the best carrier for the best price to meet your pickup and delivery dates. Most carriers expect a prompt decision and will not wait a day or two for a decision – this is where the open line of communication comes in.
Speaking of communication, when you have a moment, please contact us at 800-553-1828 for more expert input regarding our industry. Give us just seven days, and we can negotiate the best price with a reputable five-star carrier for your transport.
With the Mercury process, nothing gets done without your approval so there are no surprises, just a smooth, hassle-free transport.