Condition Report Procedure & Checklist
Below we provide an outline of our car transport condition report procedure and checklist. 
Pick Up & Delivery Instructions
At Time of CAR PICK UP:
The Designated Pickup Contact and your driver from the car transport service should inspect the vehicle.
Make sure to do this PRE-Inspection in a well-lit area. You should also keep the bill of lading paper handy, that is, your receipt and Condition Report.
The Vehicle Condition Report, also known as the Bill of Lading, should be filled out. It must be signed by both the driver and the pickup contact. Each keeps a copy.
Take many pictures and/or videos with the driver if possible.
At Time of CAR DELIVERY:
The Designated Delivery Contact and Driver will do a final inspection of your vehicle.
In this POST inspection, you walk around the vehicle and verify that it is in the same condition as it was at pickup.
Have a damp towel ready to clean the bare dirt off your vehicle to verify "dirt vs. damage." When shipping your car long distance, it is not uncommon for your vehicle to get dirty on the road. Therefore, a gas station with a carwash after delivery is always an excellent first stop.
If the carrier causes any damage(s), it must be marked on the Bill of Lading.
No claims can be processed without a carrier signature on the Bill of Lading

.

You and the carrier will both sign the condition report and keep a copy.
On the condition report, any damage caused by the covered driver should be noted. It should also be signed by the driver as their fault before they are paid.
Take pictures and once they mark it on the paperwork and sign it. You must keep this copy for your records and ask the driver where to file the claim. Each carrier has its own procedures for its insurance policy.
After you receive your car from the transport service and complete your paperwork with the carrier notify your agent at Mercury Auto Transport so we can update your file and assist you in any way possible.
If for any reason you do not have or get a carrier-signed Bill of Lading or Condition Report after your vehicle has been delivered showing the damage on the report with the carrier's acknowledgment it is impossible to get your claim filed. It is up to you and/or your pickup and delivery contacts to make sure your carrier is following this procedure. If they are not following this procedure, unless special arrangements are made that specify otherwise, contact your Agent at Mercury Immediately.
Use This Checklist To Prepare For Your Vehicle Shipment
***Please print this and keep it for your records to assure that the requirements to ship your vehicle have been satisfied***
Keys: You must provide the selected carrier with keys to the ignition, trunk, gas cap, and any locked compartment. Please have copies of your keys made and leave only the copies (keep your original set of keys) after you have checked to ensure that the copies fit all devices/compartments.
Don't Fill Your Gas Tank: Due to DOT weight regulations, we recommend that your gas tank be less than a ¼ tank.
Remove any pre-paid toll device: Toll gadgets such as EZ Pass, Sun Pass, etc… If they remain in the vehicle and the truck carrying your car goes through a toll, you're device will pick that up and be charged for the toll fees. So it's best not to have it in the car as the signals can pick up even when the device is in the glove compartment.
Do not Overpack: Light and soft personal items. You can transport luggage or small boxes inside the trunk only (100 lbs max). An infant car seat and a spare tire with a jack are integral parts of the vehicle. Thus they may be included. You will/may be asked for additional compensation if your car is over-packed or the service may require removing anything that is not permanently mounted or bolted to the vehicle. NOTHING obstructing views out of the windows. This is mandatory and is for the safety of our crew. Our crew often must load these vehicles onto the trailer with the mirrors folded in, using only the windows. If their view is obstructed the potential for damage and injury increases greatly.
Don't Pack Firearms or Fire Extinguishers: No firearms, ammunition of any type, or fire extinguishers may be shipped in a vehicle.
Alarm Systems: If there is an alarm system, it must be disconnected prior to dropping off or the alarm remote must be provided.
Disabled / Inoperable Vehicles: If your vehicle is inoperable it must be in a safe location with easy access with inflated tires, fully operational brakes, and steering.
Over-sized / Modified Vehicles: Unless otherwise previously noted to our dispatch department, Vehicles that are Factory Stock cannot exceed a certain height or clearance. All vehicles must have at least 6½ inches of ground clearance OR a maximum of 7′ high, otherwise, we may be unable to accept your vehicle for a regular auto trailer which may increase your estimated rate.
The vehicle should be clean: To ensure an accurate vehicle inspection report can be completed, please clean your car before the pickup day for the transport service. This will assist you and the driver to speed up the walk around the vehicle at pick up and destination.
No important paperwork inside the vehicle: Make sure you do not place any important papers inside the vehicle such as your Title or any other personal document that is important to you. If you do have any documents that are important inside your car please remove them and keep them with you.
If you have questions about our car transport condition report, please don't hesitate to contact us!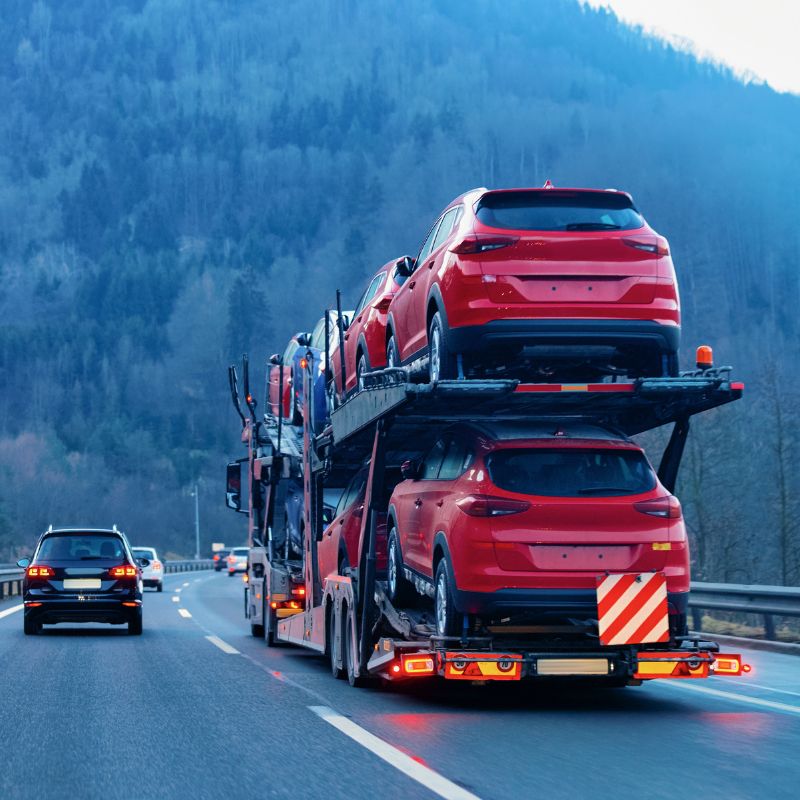 You can call our toll-free telephone number at 800-553-1828 to speak to one of our experienced, professional auto transport representatives. They can answer your questions and help you on the path to a great auto transport experience. Call us or fill out our free online auto transport quote request form and get your car shipment started today with Mercury Auto Transport.
In conclusion, the more you know about auto transport processes and procedures, the easier it is to select the right auto broker for your next move.