The industry of auto transport is constantly changing and evolving as new technologies are developed that can help make the process more efficient. One of the most significant factors that could have an impact on auto transport in the future is the design of the Tesla Semi Car Hauler.
The Tesla Semi Car Hauler has several creative design properties that could make it more efficient and cost-effective than other haulers that are currently using diesel fuel. One of the reasons that it could impact the auto transport industry directly is because it can save companies a lot of money per mile in terms of energy costs.
The auto transport industry is obviously one of the primary industries that involve traveling long distances on a regular basis. If auto transport carriers are able to take full advantage of the Tesla Semi Car Hauler, then it could become an industry-leading vehicle that can be used by auto transport carriers for the next decade.
Main Benefits of the Tesla Semi For The Auto Transport Industry
The auto transport industry could potentially take advantage of several primary benefits that are going to be offered by the Tesla Semi. These benefits include the efficiency, range, value, and innovation that have been utilized in the overall design of the vehicle.
The Tesla Semis Has Four Independent Electric Motors
The Tesla Semi Car Hauler is being designed with four independent motors that are going to be able to efficiently power the truck for distances ranging up to 300 miles. While a single charge may only be able to power this truck for a few hundred miles at a time, there are already plans to start creating mega charging stations across popular trucking routes to provide a convenient roadmap of stops along long routes.
The electric motors are designed to power the vehicle to 60 MPH in just 20 seconds, even with a hauling weight of 80,000 pounds. With more than 15 million vehicles being transported through auto transport carriers every single year, the concept of the Tesla Semi Car Hauler could be one of the greatest innovations in the history of auto transport.
While the current range of 300 miles might be a little bit low, Tesla is already looking to generate new ways to extend this range upwards of 500 miles. Without a large network of mega charging stations across every major trucking route in America, it would be logistically challenging to effectively use the Tesla Semi Car Hauler for longer hauling routes.
Maximum Range per Charge of the Tesla Semi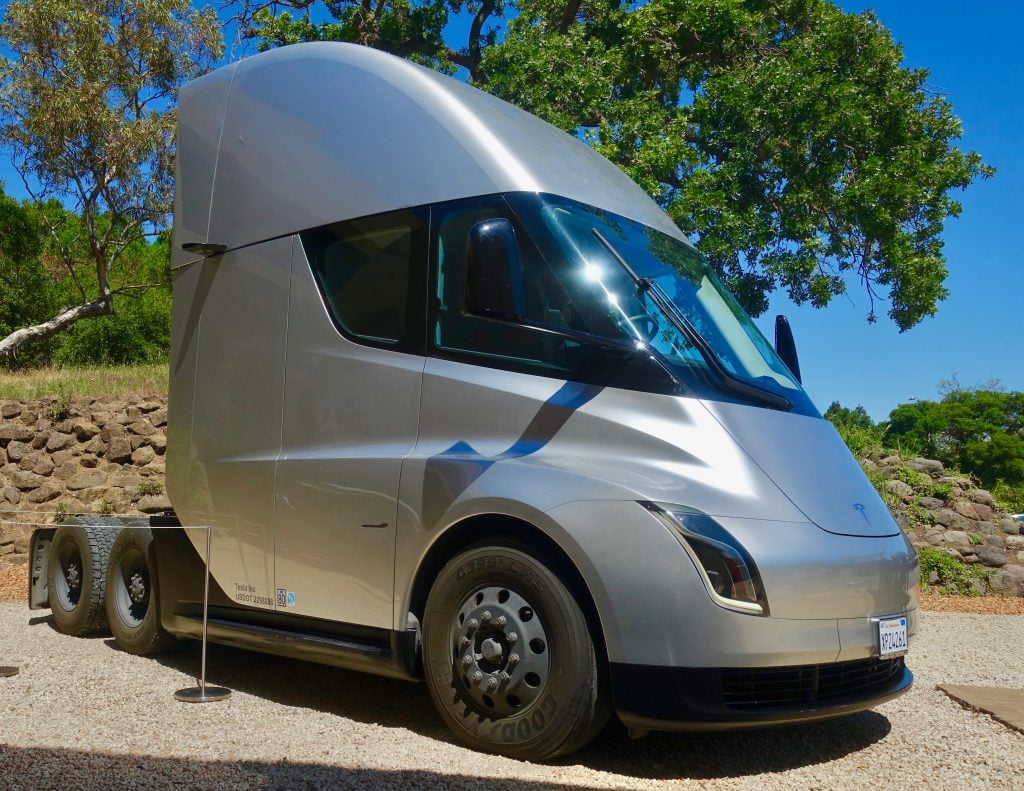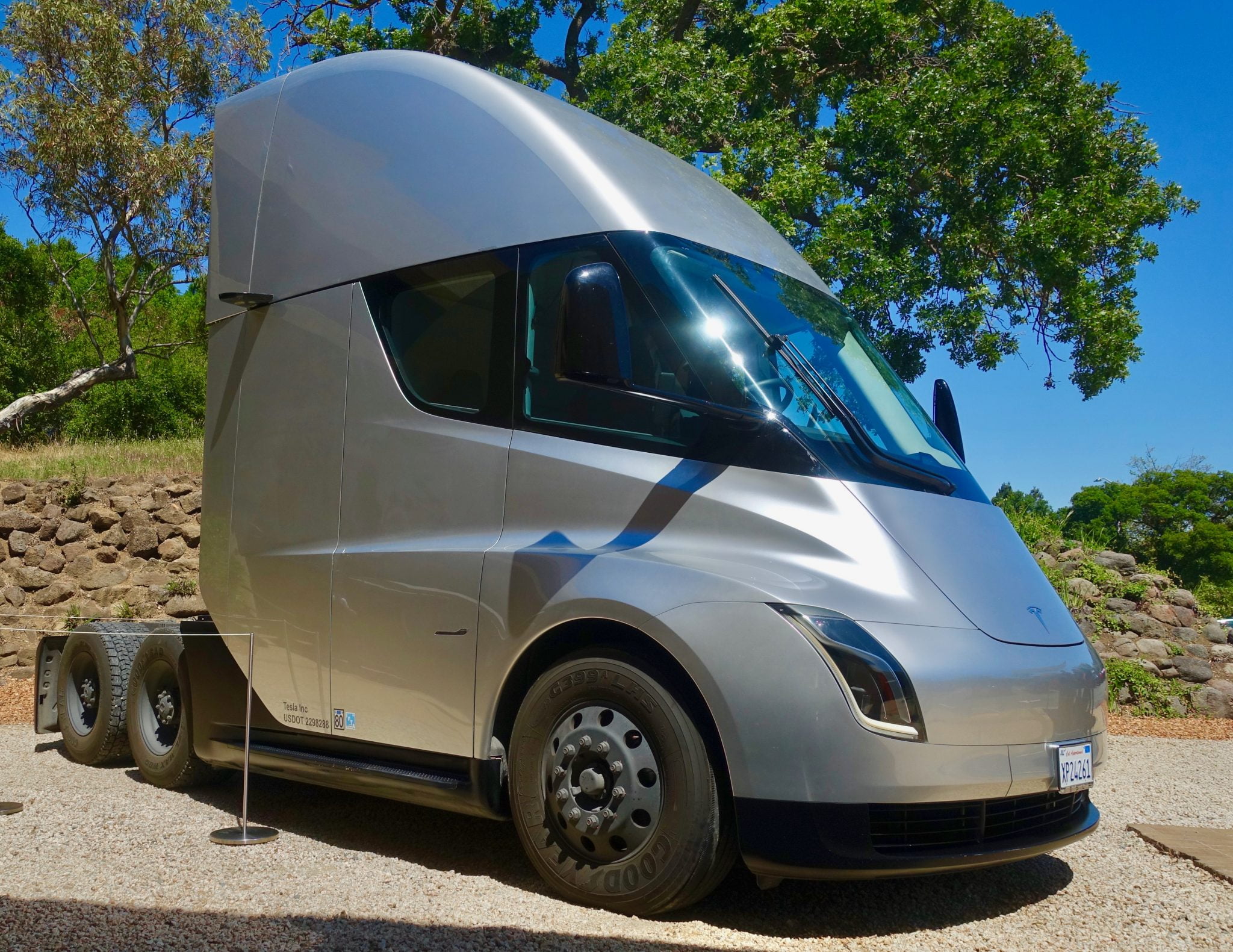 The maximum range will almost certainly be a major topic of discussion for the Tesla Semi Car Hauler. The current range for this Tesla-modeled hauler is expected to be around 300 miles. An alternative variation may be made available with a range of 500 miles in the future.
According to Tesla, mega charging stations ideally would need to be spread out across major trucking routes. These charging stations would take around 30 to 45 minutes to fully charge the Tesla Semi Car Hauler for another 300 mile journey.
From a logistical perspective, it would likely be much cheaper to use the Tesla Semi Car Hauler for auto transport services. The only real problem is that many longer trucking routes may not be possible until mega charging stations are implemented at rest stops that are located along major trucking routes.
As Tesla continues to find new ways to extend the range of their hauler, it will only make more sense for the auto transport industry to adopt the Tesla Semi Car Hauler. There is a very good chance that the auto transport industry will be taking full advantage of Tesla's innovation over the course of the next decade.
Cost Efficiency and how that Impacts the Auto Transport Industry
Tesla continues to brag about how the Tesla Semi Car Hauler could save more than 50% in energy costs. Over the course of longer periods of time, this can make a significant impact for the auto transport industry.
While there are still some logistical scenarios to work out before this is truly a viable option, the good news is that Tesla is on a trajectory to reinvent the way that long-term hauling works in North America.
Overall Safety of the Tesla Semi
While current vehicle shipping haulers are pretty safe, many analysts believe that Tesla's Semi Car Hauler could be even safer than the existing trucks that transport vehicles today. An impressive autopilot feature has been integrated with the latest technology to help detect potential collision risks.
The reinvented cockpit also allows for additional visibility and a centered seating position. Tesla has developed a completely different type of truck that will be capable of accomplishing great things in the years ahead.
Even More Innovation in the Tesla Semi
Now that you've had an opportunity to learn about some of the advanced features and design elements that have been integrated into this truck, it could be a great time to evaluate some of the forms of innovation that have yet to be discussed.
The advertised performance for Tesla's Semi Car Hauler is impressive. A fully-loaded Tesla hauler can maintain 60 MPH uphill on a 5% grade. From a standing start, you can expect this Tesla Semi Car Hauler to achieve 60 MPH in as little as 20 seconds.
Mega Charging Stations
Tesla has already expressed that production on the Semi Car Hauler will not be in full swing until around 2021. Many major retailer companies and commercial trucking carriers have expressed some interest in pre-ordering the semi-hauler for the future.
It's fairly likely that many carriers within the auto transport industry will also be interested in acquiring some of these trucks. The biggest problem right now is the lack of mega charging stations that are going to need to be placed in strategic locations around the trucking routes in North America.
According to Tesla, it could take as little as 30 minutes to completely recharge the truck. With that being said, trucks are going to need to be able to access rest stops across the country on the side of the interstate to consistently recharge their batteries. While it may be less costly than diesel fuel, it's certainly not as accessible which means there could be some industries that avoid adopting this truck into their fleet until there are more charging locations.
Final Thoughts on the Auto Industry Impact of the Tesla Semi Car Hauler
It's fairly possible that auto transport carriers will move quickly to establish a modern fleet of Tesla Semi Car Haulers. It might also prove to be an effective marketing strategy in the coming years to advertise environmentally friendly vehicle shipping opportunities.
While it is currently unclear exactly how quickly an impact will be felt within the industry of automotive transportation, it is quite clear that Tesla Semi Car Haulers could be a stepping stone towards a significant change in the trucking industry.
With improved safety and efficiency, it looks like Tesla's Semi Car Hauler will be a welcome addition to the public trucking routes in North America.