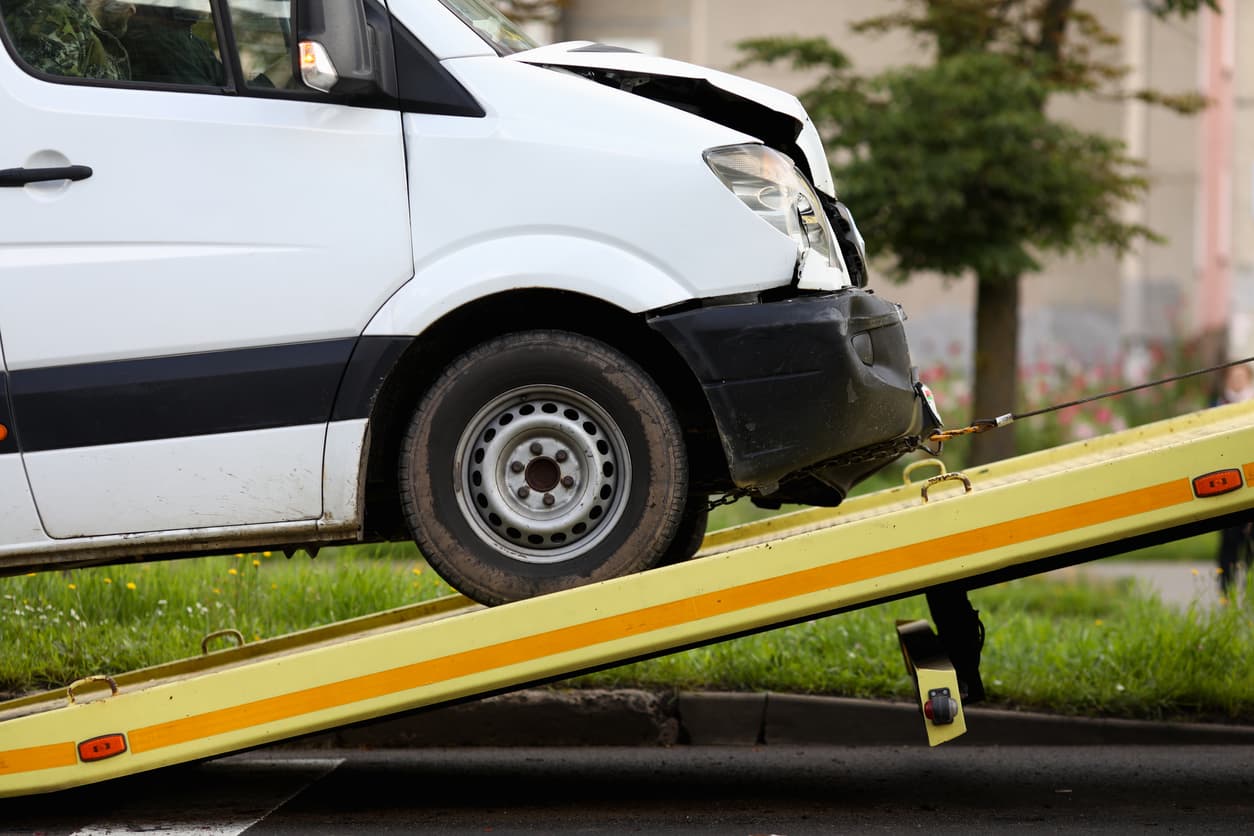 There are physical, legal, and financial concerns involved when finding a smart resolution.
Key Takeaways:
All accidents have best practices to follow regardless of location

Local vehicle repair shops can be helpful when out-of-state, but only when they're vetted

State at-fault laws could have big repercussions

Car towing and car shipping companies differ, so make an informed decision
Home can seem very far away no matter where you've had an accident. The stress and responsibility on drivers are even greater when they run into car trouble out of state. There are some added considerations involved in getting a vehicle back home across state lines. These steps don't take long to implement, but they could save you a lot of time, trouble, and money.
Consider local vehicle repair
With any luck, your out-of-state accident will be a relatively minor one that can be fixed up without too much hassle. The internet makes it quick and easy to find local vehicle repair shops and, more importantly, it puts power in the customer's hands to vet businesses before selecting them. Here are some tips to quickly check if nearby technicians are worth your consideration:
Read customer reviews and average repair rates:

The more reliable repair shops will have reviews on their website and on other popular platforms like the Better Business Bureau, Google Reviews, Yelp, and others. The web is also a great source for quick stats on how much your repairs cost on average at the national and state-specific levels.

Call your insurance company:

Many insurers have a network of mechanics, repair shops, or dealerships they've already approved. Choosing one of these can be the quick route to reliable service and may end up the cheaper option if your auto policy can help with repair costs.

Ask about warranties and certifications:

Don't consider any repair shop that isn't willing to stand by their work. You may be heading out-of-state and back home after the repairs are done, but that's no reason not to hold mechanics accountable. Using an auto-repair chain will give you the ability to visit a branch in your home state if the repairs prove sub-par. An

ASE-certified shop

is likely to be a safe bet. Seeing the AAA-Approved Auto Repair sign is another strong indicator of quality service.

Get model-specific:

Looking for repair stores with experience in handling your type of car, or are even solely dedicated to that model, can help you avoid clumsy repair work. A dealership can often be a good choice in this regard, as they're likely to have specialized technicians on hand. This will ensure design-specific knowledge that could prove crucial in successfully getting you back on the road.
Don't make a bad situation worse by paying the first mechanic you find because you're in a bind. Take a little time to review these steps and you may be on your way home much faster than you expected.
More best practices after an out-of-state accident
There are golden rules that every driver should follow regardless of where an incident takes place such as getting out of the way of further collisions, calling the authorities, and documenting things for insurance purposes.
Another very important tip is being aware of the at-fault laws for the state where you had your accident. They could differ significantly from your home rules by being either a tort (which most states are) or a no-fault state. Having an auto accident in the latter means your insurance will pay for your medical bills regardless of who caused the accident. The "no-fault" term doesn't apply to every incident, since property damage payments are decided based on who was responsible.
Remember that never admitting fault after an accident is recommended simply because you may be under the false belief that you're to blame. A hasty admission in a tort state could see you having to pay the second party's expenses out of your own pocket. This represents a potentially astronomical sum if vehicle repair or replacement is coupled with an injured driver and passengers (not to mention the insurance rate hikes you'll suffer).
An out-of-state accident could cause you to file a lawsuit that can only be prosecuted in one of two places: The state where it happened, or the state where the defendant (which could be a person or business) resides. Someone who lives in New York and had a car accident in Texas caused by someone from California would have to go a very long way to show up in court.
Shipping the car home is always an option
Towing your car home could be the answer for you or it may be out of the question depending on how far away the accident took place. This is when it pays to understand the difference between auto towing and auto transport.
The latter is the more reliable and ultimately cost-effective solution when taking a vehicle long-distance (more than 50 miles). Paying for enclosed transport could help prevent further damage to an already compromised car, plus it can help avoid the risks of a shoddy tow, such as mechanical or cosmetic damage to the vehicle.
Whichever method you choose, it's strongly advised not to forego towing or shipping in favor of trying to make it home in a damaged vehicle by yourself. This is because the usual risks are still present over longer distances, and you may have suffered injuries or car damage that could impair your on-road abilities and make things even more hazardous. You may even be driving illegally if the damage to your vehicle has exceeded a certain threshold.
You'll want to consider this situation if your out-of-state accident has stopped your car running entirely. This makes things a little different than shipping a functional vehicle, and our blog will help you learn how to best prepare.
Speak to the auto transportation professionals with any questions
Mercury Auto Transport is a full-service auto shipping company specializing in connecting customers with carriers nationwide. We're fully licensed and bonded with the U.S. Department of Transport and the Federal Motor Carrier Safety Administration, and we put you and your vehicle first. Call us toll-free at 800-553-1828 or email info@mercuryautotransport.com for more information.