Shipping by plane is regarded as one of the safest modes of vehicle transportation. Those in charge of the vehicle are highly trained and experienced in caring for and transporting high-value vehicles.
And, unlike most road transport carriers and cargo container ships, the vehicle is typically handled less in air transport. Furthermore, airport security is usually much higher than it is on the highway or at shipping container ports.
The cost of shipping a car by plane ranges from $2,000 to $4,000.
Yes, flying a car across the country is expensive. It can cost more than the average price of a new car in some cases. However, it is a viable option for more affluent clients who want to ship exotic cars.
Ship a Car by Plane 
If you're looking for a way to get your car moved interstate, you should look into all of your options. Among these will be car shipping by plane. This is done, but it is by far the most expensive method of transporting a car. Nonetheless, when air shipping is available, it provides some ease and convenience.
There are some benefits to shipping a car by plane that may make it worthwhile despite the cost. It is the quickest way to ship your car and is mostly used for international auto transport. So, if time is an asset you cannot afford to lose, this may be the best option for you.
Should I Ship My Car By Plane
If you have a car that you consider to be very valuable, either financially or emotionally, and you want it to receive the best possible care, a cargo plane is the best option. Because road and sea transportation are more turbulent than air freight, there is a greater chance that your vehicle will sustain physical damage. 
Your valuable car will receive the smooth transportation it deserves on a plane, without being tossed and shifted around much.
If your destination is direct and you want to get there quickly and safely with your valuable car, you should consider shipping it by plane.
Reasons T
o Ship A Car By Plane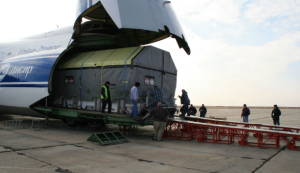 Shipping a car across the country may appear to be a daunting task, but you do have options for getting your vehicle to its destination. 
Transporting your car by plane may appear to be the quickest and safest method, but as with any car shipping option, there are advantages and disadvantages.
Using a plane to ship a car across the country is usually more expensive than the average cost of a new car, but for the right client, it's a viable option. Shipping a car by plane is safe, quick, and dependable.
Rare or Expensive Car
Transporting a valuable car that is either very important to you or very expensive could be a difficult task if its safety is a concern. As a result, it is preferable to transport vehicles or expensive cars by plane because it is quick and safe.
Your valuable car will be transported in comfort on a plane, without being thrown and moved around much.
Shipping As Quickly As Possible
One of the main benefits of shipping a car by plane is that it is much faster than any other method. This is especially true when shipping internationally, as transporting a vehicle from its point of origin to a shipping port, where it would then take several weeks to arrive at its final destination, would typically take several days.
If you need to get your car from one location to another as soon as possible, shipping by plane is clearly the best option. Shipping a car over a long distance by plane usually takes only a day or two, compared to days or weeks by highway or ocean transport. When you ship your vehicle by air, it may arrive at your new location ahead of you!
Shipping Overseas
Someone might choose to ship their car by plane if they need it shipped overseas.
Also when a car is transported by plane, the short transit time and direct shipping usually allow for more accurate shipping dates. Airlines tend to adhere to departure and arrival schedules more strictly than cargo ship companies. See the section below titled "Possible Delays Due to Weather" to learn about one possible limiting factor to accurate shipping dates.
If you're shipping your car across the ocean, air transport is undoubtedly the quickest option. Despite the fact that shipping in a container on a cargo ship is the most common method of international transport, air transport is much faster and more direct.
The Pros and Cons of Shipping a Car By Plane
Let us now discuss the disadvantages of shipping by plane. The most significant limitation in air transport is the high cost of shipping a car by air. Air shipping costs more than twice as much as enclosed road transport, and international air shipping can cost 2 to 3 times as much as sea transport.
Because the cost of shipping a car by air can frequently exceed the value of a standard vehicle, it is usually reserved for rare, valuable, and one-of-a-kind vehicles.
The following factors will influence the final cost of shipping your vehicle by air:
The dimensions and weight of your vehicle.

Flying into and out of regional airports on both the drop-off and delivery ends of the shipment can be more expensive than flying into major airline hubs.

The time of year: cargo demands can vary seasonally.

Handling requirements that are unique
Weather can affect shipping dates when shipping by plane. Flights may be canceled or delayed due to severe weather. Due to ice storms and heavy snowfall in specific areas of the country or world, this appears to be most common during the winter months.
Also one advantage of shipping by plane is the safety of your car. If shipping time and quality are important to you, consider shipping by plane. It is the most efficient method of transporting your prized automobiles from one location to another. 
It's not surprising that the cost of an airplane car transport is the same as the cost of a new car.but  It includes the option of delivering your personal belongings alongside the car, which is not provided by every auto transporter. It's very convenient if you're moving to a new house, and it will save you money on arrangements.
How Does It Cost To Ship A Car By Plane?
The cost of shipping a car by air ranges from $2,000 to $4,000. Unless it's an expensive exotic, the cost of shipping a car by air will usually far exceed the value of the vehicle itself. With the money you'll save on air freight, you could buy a new car and still have plenty left over.
The cost will, of course, vary depending on the vehicle's weight, make, and distance traveled. If you fly a car to another state, the cost will be less than if you flew it to another country. If you're considering international auto shipping, be prepared to spend up to $100,000 of your own money.
More Things To Think About
Shipping a car involves two parties: the shipper, who owns or possesses the vehicle, and the shipping company. On both ends, the process necessitates or prefers some paperwork in order to complete the move. This includes
Now comes the big one. The bill of lading (BOL) is a document signed by you, the shipping customer, and issued by your chosen transporter. It confirms that the transporter received your vehicle and that it was in good condition at the time of pick-up. It serves as a "contract of carriage" during the move, certifying that the transporter is legally in charge of your vehicle. When the car is delivered, you sign the BOL again to confirm receipt.
Insurance details is a document that you would have to provide yourself. Instead, the transporter's insurance usually applies. Still, you'd need that document outlining the terms and conditions of their insurance.f
Proof of insurance– In contrast to what has been stated above, on rare occasions, the customer's insurance will cover the car while in transit. If you've arranged for that type of car shipping, you'll be the one to provide proof of insurance to the transporter!
However, this is extremely rare. Most shipping companies will ship without requiring proof of insurance.
The title and registration, another optional piece of paperwork, are usually combined. The registration binds the vehicle to you, the owner, legally. The title is proof that you own the vehicle.
It's unusual for a car transporter to ask for your title and registration. However, in some cases, this type of paperwork is required, so keep a copy of these documents on hand.
Photographic identification– Before shipping your car, some transporters may request a photo ID from you. Most of the time, this only serves the transporter's internal database. If this is the case, you can use your driver's license or any other form of identification.
Research
Do your homework! Certain documents are required by some companies. Some charge higher prices but provide better services. The key here is to have a clear understanding of what you want to achieve. Always read the company's policies to avoid getting into trouble. 
Furthermore, by conducting research, you can gain a better understanding of the type of transportation that would be suitable for your budget and transportation needs. The more you understand, the better.
Ask Your Shipping Company
Ask your chosen shipping company, look at their track record, and understand what services they provide.
A shipping company transports physical objects efficiently and safely. Choosing the best shipping company is similar to selecting the best accountant, vendor, or supplier. You are selecting a partner who will assist you in meeting your logistics requirements. Of course, that assumes they do their job flawlessly. 
In the shipping industry, as in any other, there are fly-by-night operators. They might offer you an unrealistic price and then take your valuables. However, there are some truly outstanding businesses. As a result, you should exercise caution. Examine their track record for characteristics such as timeliness, consistency, and cost efficiency.
Frequently Asked Questions About Shipping A Car By Plane
Can cars be flown on planes?
It is possible to fly a car in a plane; however, the weight and size of the car will significantly increase the cost.
Among the logistical challenges encountered when transporting cars by air are the numerous procedures involved in loading and unloading the vehicle from the aircraft. Because a car is typically larger than the majority of the cargo being transported, extra time is required to ensure proper and safe vehicle loading.
The weight distribution and center of gravity (C.G) settings of the aircraft are critical to its in-flight stability. Because a large amount of weight is concentrated on one section of a heavy object, such as a car, calculating such values can be difficult.
How much does it cost to ship a car overseas by air?
The cost of shipping a car by plane ranges from $2,000 to $4,000.
To transport a vehicle by plane overseas, you'd need to save at least $100,000 because it requires more special documents and a lot of gasoline to transport such a long distance.
How long does it take to ship a car by plane?
Your car could arrive in a day or a month, depending on a number of factors. The method you use to ship your vehicle is one of the factors influencing the answer to this question. 
It also depends on factors such as weather and time of year, and your car's weight can play a significant role in determining how long it takes to ship a car by plane.