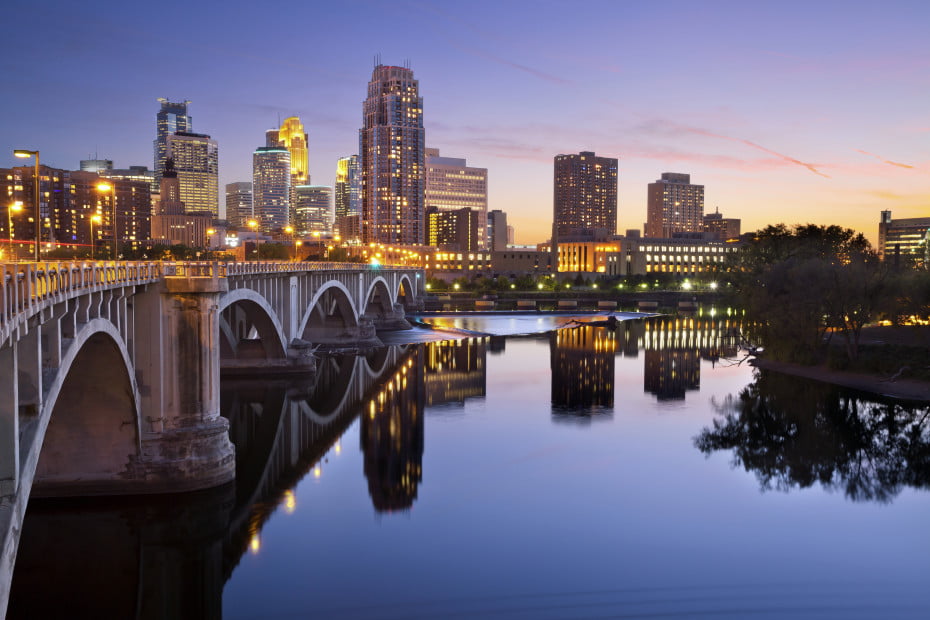 AUTO TRANSPORT SERVICES TO MINNESOTA
The state of Minnesota is not the most popular of auto transport locations, primarily because most of the city's population is centered around the Minneapolis-St. Paul metropolitan area near the state's border with Wisconsin. This makes it difficult for many carriers to make enough money to justify them running routes that far north, as there are not usually a lot of people transporting vehicles from or to Minnesota. The fact that it does have Minneapolis helps, of course, but only so much; on the whole, you will find that transporting a vehicle from or to Minnesota will take a bit longer and cost a bit more than other states in the U.S.
This is because the only major interstate that runs through Minnesota, at least east-west, is I-94. I-94 is a popular interstate east of Minneapolis, but really once you get into western Minnesota things get pretty barren. During the summer months will generally be when the best deals are, as once winter rolls around and the customers drop off there's not much to do or see in Minnesota for carriers, and between the bad weather (Minnesota gets some pretty heavy snowfall come winter) and the lack of people shipping to or from there a lot of carriers tend to avoid it and head south for warmer climates. I-94 is probably going to be the cheapest way to go, so if you're shipping west from Minnesota and are looking to do so on a budget, ship from and to cities along the interstate, as that's where carriers like to stay most of the time.
AUTO TRANSPORT MINNESOTA
I-35 is the only major north-south interstate that runs through Minnesota, and like I-94 it runs through the Minneapolis metropolitan area which does make it easier for carriers moving in or out of Minnesota. Unfortunately, I-35 services mostly Midwestern cities like Des Moines, Kansas City and Oklahoma City. It does make it much easier and cheaper for carriers to run routes in the Midwest, however, so usually when you're transporting to or from Minnesota from the southern states you'll want to try and keep the pickup and delivery locations to as close to I-35 as possible if you're shipping from anywhere remotely near it. You can talk to your representative about the best way to save money on your specific pickup and delivery locations, and you can read more about Minnesota by visiting the state's official website here.
Regardless of where you are transporting your vehicle to or from, however, we here at Mercury Auto Transport are here to help. Simply fill out our free online auto transport quote request form and you'll receive a customized auto transport quote in your e-mail within the next hour. You can also call our toll-free telephone number at 800-553-1828 to speak to one of our live auto transport representatives who can answer your questions and help you on the path to a great auto transport experience, no matter where you are shipping from or to. So what are you waiting for? Call us or fill out our free online auto transport quote request form and get your car shipment started today with Mercury Auto Transport.
MINNESOTA AUTO TRANSPORT