Moving to a new state is an exciting and daunting task. It's a fresh start, a new chapter waiting to be written. But before striking out on this new journey, make sure the right interstate moving company handles the logistics for a smoother experience.
With so many choices out there, finding the right mover can seem impossible. That's where we come in. In this comprehensive guide, we will present to you the 21 top interstate moving companies.
So get comfortable and prepare for a journey of invaluable wisdom and insightful guidance. Let's get started.
Moving interstate requires professional expertise from an interstate moving company in terms of logistics management.

Locating and choosing an efficient mover are critical elements to ensuring an effortless move experience.

Before making a choice, consider reputation, experience, pricing and services available.

Acquiring multiple quotes and understanding their pricing breakdown are integral parts of making informed purchasing decisions.

Planning is of the utmost importance for an effortless interstate move.
Top 21 Best Interstate Moving Companies
Let's dive right in with our list of the 21 best interstate moving companies! We conducted thorough research, reviewed customer feedback and considered key elements to provide you with the most comprehensive list possible.
First up, the top 3.
Here's more in-depth detail and the list of 21 best interstate moving companies. 
Average rating: 4.7/5
Contact number: 877-720-4066

Mayflower has a vast network of really experienced movers, so you're in safe hands as they're abject professionals at moving. They offer almost every service you can imagine, including storage, so you can tailor it to fit your needs. Their app is excellent too. You can manage every aspect of your booking from it, making for a seamless experience. 

Availability: 46 States
Pros: Fully customizable service with an easy-to-access app. 
Cons: There aren't any locations in Delaware, Hawaii, Rhode Island and West Virginia.
Average cost: Mayflower's service is entirely personal, so getting an average price or quote isn't easy. Because of how customizable it is, though, we doubt it's cheap. 
Average rating:

4.6/5

Contact number:

954-892-5920

IVL is a full-service moving company. They'll help pack, load, deliver, unpack, and unload. Plus, you can get additional services like bulky items or

vehicle shipping

. And they offer comprehensive protection plans to cover your big move further. 

Availability: Nationwide
Pros: Interstate moves across the whole country with protection plans and a great cancellation policy. They also offer specialty shipping for things like pianos, and you can get quick quotes online. 
Cons: IVL reviews are a bit all over the place, depending on which state you're booking from. And you'll need to put down a 25% deposit beforehand. 
Average cost: $2519 – $4306 (Quote based on a 2-bedroom house from Dallas, TX to Denver, CO, on the weekend in September)
Average rating: 4.6/5
Contact number: 800-829-3808

Mayzlin gets some of the best customer reviews of any moving company on our comprehensive list. Though they're a smaller, newer business, Mayzlin are really trying their best to make a mark. With plenty of discounts and low deposits, they won't break the bank either. 

Availability: 48 States. 
Pros: They'll price match the big guns, and their reviews are unmatched. 
Cons: 25% moving deposit. 
Average cost: They don't offer online quotes. 
Average rating: 4.6/5
Contact number: 833-626-1326

Don't let the name put you off; CHHJ gets exceptional reviews online. As that name suggests, they are a moving and junk removal company. They're great for decluttering before a move, coordinating donations, and all the moving services you'd expect. They only operate in 38 states but cover dorm, office, local, and long-distance moves. 

Availability: 38 States. 

Pros: College Hunks' local and interstate moving options are excellent. While you pack your stuff up ready to go, you can pay extra for full service. 

Cons: You can't do everything online. 
Average cost: A quote isn't available online; you must schedule an estimate. 
Average rating: 4.5/5
Contact number: 877-740-3040

UVL has a long list of services, including packing, tracking, vehicle transportation, storage, insurance, etc. They're excellent for all types of moves from long-distance to local. And you don't have to put down a deposit to get the ball rolling. Not to mention that cancellations are free until the day of the move. 

Availability: 46 States. 
Pros: Easy to use website, excellent customer service, generous cancellation, and no deposit required. 
Cons: The only downside is they're unavailable in every state and aren't the cheapest because of their full-service breakdown. 
Average cost: About $9000 for a 2-bedroom interstate move based on information gathered by other outlets. 
Average rating: 4.5/5
Contact number: 800-638-9797

Atlas offers a full-service move; unless they say otherwise, it's included in your quote. That means everything from packing to moving is handled. They can even disassemble and reassemble furniture if needed. With this service, you can also get pretty comprehensive insurance options and have 3 days to cancel without any fees. 

Availability: Nationwide
Pros: Atlas covers everything, including long and short-term storage. You can even book flights, car rentals, and hotel stays through them. Not to mention, AAA members get discounts. 
Cons: The process to get a quote is a lot. That might put you off, and 3-day cancellation can get restrictive. 
Average cost: $8300 (Quote based on a 2-bedroom house from Dallas, TX to Denver, CO, on the weekend in September)
Average rating: 4.5/5
Contact number: 844-963-0813

This eco-friendly moving company focuses on commercial moving and relocation services. JK Moving will cover all of your office tear-down needs and IT infrastructure removal and replacement. Long-distance, interstate, and international moves are their main areas. Even offering storage solutions for data and warehousing. 

Availability: Nationwide
Pros: JK Moving offers background-checked moving crews for residential, commercial, military and government moving and storage services. As well as vehicle transportation, storage solutions, financing options and 24/7 customer service availability.
Cons: Residential services are available but not cheap because JK covers everything. 
Average cost: You can expect to pay over $8000 for our 800-mile relocation from Dallas, TX, to Denver, CO. But that's based on other people's quotes, so approach them for a more detailed costing.
Average rating: 4.4/5
Contact number: 1-866-922-2627

One of the oldest moving companies there, Bekins provides residential and international moves. As well as providing storage facilities. As full-service movers, they can handle everything, from planning to delivery. 

Availability: 95% of the country.
Pros: With high customer ratings, you're in safe hands with Bekins. Plus, they offer federal and retired employee discounts as well as the option to have a move manager. 
Cons: With 350 agents, one might not be in your area. And the website isn't the easiest thing to use. 
Average cost: Quotes require an in-person or virtual estimation, so you'll have to contact them yourself. 
Average rating: 4.4/5
Contact number: 855-989-2549

If you're looking for self-service, U-Pack is the company for you. When using this cost-effective option, you'll choose from 2 container sizes. They'll drop it at your place, give you 3 days to fill it, and then return to pick it up and take it to your destination. You only pay for the space you use and can get liability coverage. 

Availability: Nationwide
Pros: It's cheaper than full-service models and provides flexible delivery options. 
Cons: They don't do local moves; you only get 3 days to load and unload. 
Average cost: You'll pay $1993 for the basic package. (Quote based on a 2-bedroom house from Dallas, TX to Denver, CO, in 2-4 months' time)
Average rating: 4.3/5
Contact number: 800-599-3046

Safeway are similar to Interstate in that they're a moving company, yes, but they're also a broker. So when they can't fulfill your needs, they connect with a company that can. Their customer service is excellent, as that's where they put their energy. And you can get in touch 7 days a week throughout your dealings to answer any questions or queries. Safeway also offers a moving service dedicated to senior citizens.

Availability: Nationwide
Pros: Flat rate estimates with a 100% satisfaction guarantee. Plus, they specialize in interstate moves. 
Cons: It's hard to find pricing information online.  
Average cost: They need a detailed overview of the move to provide their fixed rate prices. For our 2-bedroom, 800-mile move, you can expect to pay an estimate of around $5500.
Average rating: 4.1/5
Contact number: 866-922-5801

Interstate is great for anyone who doesn't have the time to find the right mover for them. That's because they're a broker. They don't provide the services, but they coordinate with companies that do through their extensive network. IMRG's partners are excellent, and they can cover a massive range of services thanks to their broker model. 

Availability: Nationwide
Pros: In-house financing and partners mean they can get low prices. 
Cons: Limited customer service on weekends. 
Average cost: You can expect to pay around $4500 for a standard 2-bedroom move 
Average rating: 4/5
Contact number: 800-360-0037

Moving APT is a broker operating through partners across the country. Because of this, they can offer specialized services for moves of every shape and size. They're rated really highly for customer service and responsiveness, so you know exactly what's going on with your move.

Availability: Nationwide
Pros: Quick quotes and personalized rates are easy to get online. But be prepared for a lot of contact afterwards from companies looking to secure your job. 
Cons: Reviews are mixed depending on your location. 
Average cost: You can get a specific quote pretty quickly, but they want a decent amount of info. So for an essential interstate move, it'll cost $2500. Moving size and distance along with the provider will make this vary. 
Average rating: 4/5
Contact number: 800-228-3092

NAVL is a full-service mover that includes insurance coverage for all your stuff. Their easy claims process makes them an excellent choice if you're moving bulky, expensive items a long way. Plus, there are 500 locations, so you'll surely find somewhere nearby. They can supply packing materials and offer short or long-term storage for your belongings. 

Availability: Nationwide
Pros: When North American Van Lines give you a price, it doesn't change. And their 500 locations across all 50 states make them super accessible. 
Cons: The storage options available can vary wildly between states. And their service list isn't available at every location. 
Average cost: $5384 – $6136 (Quote based on a 2-bedroom house from Dallas, TX to Denver, CO, on the weekend in September)
Average rating: 4/5
Contact number: 888-296-5458

American Van Lines are quick and affordable. As well as providing moving services in all 50 states, AVL offers storage and vehicle transportation facilities. You'll need to put down a deposit when you book, but they're an excellent option for anyone on a tight budget. 

Availability: Nationwide
Pros: You can get pretty much all your needs covered with AVL, and they're great with moving valuables. Plus, they cater for military personnel well, so they could be perfect if that's your job. 
Cons: Besides needing a deposit, the cancellation policy is restrictive. 
Average cost: You need to get in touch for a specific quote. But for a general idea close to our usual quote, you can move from Austin, TX, to Denver, CO, for $3141.
Average rating: 3.9/5
Contact number: 800-689-8684

Allied Van Lines, a full-service mover, provides packing, loading, transportation, unloading, and unpacking all in one convenient place. They also offer vehicle location, something you don't see often in this business. The 500 locations mean you'll find a service nearby. And they can even provide third-party cleaning services. 

Availability: Nationwide
Pros: AVL does everything in-house. They can also deal with fragile items safely and offer temporary or permanent storage facilities. If you're worried about anything, you can track your shipment via GPS.
Cons: Customer reviews say they're not the easiest to get in touch with. And some homes can't get an instant quote online. 
Average cost: $5408 – $6164 (Quote based on a 2-bedroom house from Dallas, TX to Denver, CO, on the weekend in September)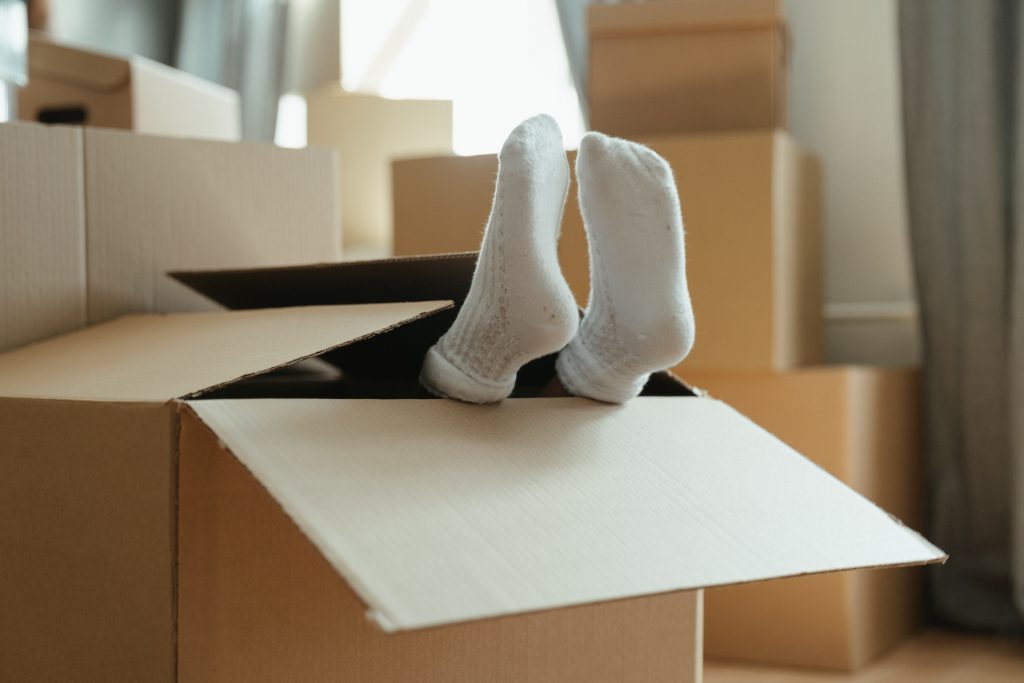 Average rating: 3.9/5
Contact number: 964-958-2178

Colonial is a family-run, full-service company with a network of 200 agents waiting to help you complete your move with as little stress as possible. They specialize in long-distance moves and have a range of services like vehicle transportation to choose from. You can use their handy app to keep in touch with your movers and create a virtual inventory so nothing gets left behind. 

Availability: 48 States. 
Pros: It's easy to plan your move in the app, and storage options give you plenty of flexibility. 
Cons: They don't do local moves and aren't available in Alaska or Hawaii. 
Average cost: We got a ball park quote of $1350 to $2900 (Quote based on a 2-bedroom house from Dallas, TX to Denver, CO, in 2-4 months time)
Average rating: 3.8/5
Contact number: 866-691-8135

Bellhop offers great interstate and local moving options. Thinking of themselves as a moving company with a difference, you can schedule and track everything in their handy app. They have a good reputation but don't cover every service or every area of the country. 

Availability: 24 States and Washington DC. 
Pros: You don't need an in-person consultation to book; you can do it easily through their website or app for free.  
Cons: They don't offer discounts and can't accommodate vehicle relocations. Bellhop doesn't cover the nation and can't do international moves. 
Average cost: Between $4000 for a 500-mile move and $9000 for 1500 miles. So it's on the higher end of the scale, but these are just estimates. 
Average rating: 3.7/5
Contact number: 877-693-7060

This full-service company is a partner of Allied Van Lines. They mainly service the southeast but also complete interstate moves in specific areas. Coleman stands out among its competitors by offering an exceptional discount program tailored specifically for alumni of Southeast colleges such as Alabama State, University of Georgia and Kennesaw State Universities. They'll even do custom crating for very fragile items. 

Availability: 22 States. 
Pros: You can tailor a hands-off move supported by their consumer protection program.
Cons: Some reviews are mixed, and Coleman relies on Allied for moves outside its operating locations.  
Average cost: Costing is on a per-situation basis, so you won't get an average online. 
Average rating: 3.6/5
Contact number: 1-800-722-5728

Like PODS, Pack Rat drops a container off at your chosen location. You fill the container up for it to be picked up and moved either to your new home or a storage facility, depending on your needs. This company caters to households looking to save a bit of money on moving compared to full-service models. 

Availability: 32 States have at least one metropolitan location. 
Pros: Excellent for long-term storage and moves to or from major cities. 
Cons: They don't provide full-service packing and unpacking. Plus, smaller locations will struggle to find a 1-800-PACK-RAT location.  
Average cost: Rates are per container, so you'll have to get on the phone for a specific quote. But competitive prices are their bread and butter, so we don't expect them to be expensive. 
Average rating: 3.5/5
Contact number: 855-706-4758

PODS are your go-to all-in-one storage and moving specialists. There are plenty of options to choose from, including a specialized option for large city moving. You'll have the choice of renting the truck to move all on your own. Or you can rent an entire full-service team to do the hard work for you. Their services are super flexible, as you can get a POD on your doorstep to fill up for a move later down the line. And they're perfect for anyone looking for a lower-cost, small move.

Availability: 46 States. 
Pros: If you don't have a lot of things and your move is short, PODS are a bargain. Plus, they have super simple cancellation terms. 
Cons: They don't have an app, and costs start to mount for bigger, longer moves. 
Average cost: $1500 for a small, short move. $8300 for a longer, large family move.
Average rating: 3.4/5
Contact number: 800-468-4285

Maybe the most recognizable moving truck, U-Haul offers a comptitively priced service with a wide range of trucks. They allow customers to rent their vehicles. You can also go full-service and rent packing and loading services. Plus, there are plenty of add-on options to create a bespoke service for you. 

Availability: Nationwide
Pros: The U-Box service offers self-service, 24/7 booking through the app, so renting your moving vehicle is super simple. Plus, the U-Haul extensive network means quick and convenient pickup. 
Cons: Beware of unexpected fees, small container sizes, and cancellations. 

Average cost: $3700 (Average found online as the website was uncooperative)
How We Selected the Best Interstate Moving Companies
Once you've seen our list of 21 best interstate moving companies, you might wonder how we came up with it. Well, we didn't rely on a magic eight ball or flip a coin. Instead, we implemented an exhaustive selection process designed to bring only reliable options your way.
First, we conducted extensive online searches of customer reviews and ratings of these businesses. Primarily on Google and Trustpilot. Firsthand accounts provide invaluable insight. We considered overall ratings as well as feedback regarding professionalism, timeliness and customer service provided.
Next, we considered each company's range of services offered. A top interstate moving company should cover every facet of moving for their clients. From packing and unpacking services to full transportation service with car shipping. And they need to ensure your precious belongings arrive undamaged at their new homes safely. 
And lastly, we studied each company's average cost closely. Price plays a decisive role in decisions. So we searched for a balance between affordability and quality service. Ultimately our aim was to present you with companies offering competitive pricing without compromising professionalism or reliability.
By considering these criteria, we compiled our list of the 21 best interstate moving companies to help you make an informed choice. Let's dive deeper into what exactly an interstate moving company is.
What Is an Interstate Moving Company?
Interstate moving companies specialize in long-distance moves and offer individual or family assistance throughout. Their experienced personnel have all the resources to manage logistics involved with long-distance relocations for a hassle-free experience.
What day is cheapest to hire movers?
Timing is everything when it comes to moving states. You want your belongings delivered promptly without any surprises or delays. So when is the best day and price to hire movers? To save some cash consider scheduling your move for weekday rather than weekends.
Many prefer Saturday and Sunday moves which drive up prices due to higher demand. And weekday movers might offer better deals as they'll have less people around them during your move process.
How far in advance should I book an interstate moving company?
At times it can be confusing knowing when it is best to book interstate moving companies. But in general, two to three months before is ideal. This allows you to secure your preferred moving date while giving enough time for planning and allocating resources for the move.
Of course, last-minute moves do happen. However, booking ahead increases your chance of having a seamless moving experience.
What should I do if any of my belongings get damaged during the move?
Now let's address one of the more frequently raised concerns: What happens if any of my belongings become damaged during my move? Accidents do happen. That's why selecting an interstate moving company with insurance coverage for your items is imperative. It'll give you peace of mind knowing they will take responsibility and compensate accordingly should any incidents arise on the road.
Be sure to inquire about insurance policies and coverage options before signing any contracts. And check what cover they have for car transportation and shipping.

Types of Interstate Moving Companies
Not all interstate moving companies are created equal. Each offers different levels of service at different price points. Let's examine the different types:
Full-Service Movers
These professional movers take care of every detail of your move from packing to unpacking. Including logistics management and disassembling furniture if necessary, all while transporting it securely. It's ideal for those who prefer a more straightforward experience, handing the reins over to professionals who handle every aspect of their move without worrying for themselves.
Self-Service Movers
For those willing to put in some legwork and desire greater control of their move, self-service movers could be an ideal option. While these companies will provide transportation and packing materials. But you'll still be responsible for packing, loading, unloading, unpacking and unpacking yourself. This makes it a more budget-friendly option with greater flexibility than full-service moving options.
Specialized Movers
Specialized Movers: Moving delicate or precious belongings requires special expertise and care. That's where specialized movers come in handy. These expert teams know just how to treat artwork, antiques, pianos or pets with special consideration. So when moving valuable or fragile possessions it pays to hire specialists like this to give each item their due consideration and care.
How to Choose the Best Interstate Moving Company
Now you understand the various interstate moving companies available to you. The next step may be choosing which is the most suitable one for your personal requirements. 
Unfortunately, it's not quite that straightforward. So here are some key factors you need to keep in mind before selecting a mover:
Reputation and Experience
Reputations speak volumes when selecting a moving company. So it's essential that any prospective provider can demonstrate reliability and professionalism with positive customer reviews and proven track records. Experience is equally vital. 
Opt for companies who have been operating within their niche for several years. These will likely have developed their abilities further and established connections within it.
Licensing and Insurance
Never underestimate the significance of working with an interstate moving company that complies with legal requirements and industry standards. Insurance will protect against any accidents that might occur during transport as well.
Transparent Pricing and Estimates
Hidden fees and unexpected charges can quickly turn an attractive deal into a financial nightmare. So select a provider with transparent pricing with comprehensive estimates. This gives you an in-depth overview of the costs involved, eliminating surprises down the line.
Services Offered
When hiring a moving company, make sure they can fulfill all your needs. From packing and unpacking services to storage options. Don't settle for anything less when it comes to protecting and caring for your belongings.
Customer Reviews and Ratings
Don't just trust what we say – take a peek into customer reviews to gain more of a sense of the moving company's reputation. Keep an eye out for consistently positive feedback regarding professionalism, efficiency and customer service. 
Real people's experiences can give valuable insights into what to expect when hiring services to move to another state.
Professionalism and Communication
Moving can be stressful. So choosing a moving company that puts your mind at ease is paramount to an enjoyable moving experience.
Aim for one with high professional standards who prioritize communication, openness, and fast response times. This'll help alleviate stress during this potentially trying time period. A friendly, attentive team makes all the difference.
How Much Does an Interstate Moving Company Cost?
Costs associated with hiring an interstate moving company may depend upon several variables. Let's review these in more detail here:
Distance of Your Move

: It's typically true that long-distance moves mean higher costs. Moving across state lines involves additional resources and logistics that lead to higher expenses. So when estimating costs, it is essential to factor in both mileage and route details.

Weight or Volume of Belongings

: As your possessions increase in size or volume, so will their transportation cost. Moving companies consider this when setting prices. 

Additional Services Needed

: Do you require help packing or unpacking, storage space arrangements or unloading at your destination? When budgeting additional costs for moving services beyond transport alone, take into consideration both your individual requirements and those outlined by your budget.

Time of Year

: Moving during peak seasons such as summer can be more costly. That's because high demand leads to restricted availability. For more favorable rates, try scheduling your move during off-peak times instead.
Establishing multiple quotes from various moving companies is absolutely vital. By gathering multiple bids, you can compare pricing structures, services provided, and the overall value of these moving firms. Be sure to understand their pricing structures and ask for clarification if anything's still unclear. This'll help you make informed decisions that fit both your budget and requirements.
Factors That Impact the Cost of an Interstate Move
Now that we understand the general factors impacting interstate moving company costs, let's focus on specific considerations:
Packing Services

: When opting for full-service movers to handle packing services, their costs will typically outstrip those of self-service movers. Packing materials, labor and expertise all factor into this price.

Storage

: When renting temporary storage for your belongings before they move into their new homes, plan for additional fees to cover storage fees. They can range in duration and size of storage unit required.

Specialty Items

: Moving specialty items such as pianos, pool tables or fragile antiques requires expert knowledge and special handling equipment. Usually at additional charges due to these specialized requirements.

Insurance Coverage

: Many moving companies provide various levels of protection for your belongings. While basic coverage will typically be included, additional

policies

can provide maximum coverage at additional costs. Keep this in mind before opting for more coverage options. 
Remind yourself, though, that cheap is not always best. Finding an appropriate balance between cost and service should always be priority number one.
Don't put at risk the safety or care of your belongings just for a lower price tag. 
Interstate Moving Checklist – Tips for Moving:
Moving across state lines takes careful preparation and organization. That's why we've assembled an interstate moving checklist. Let's break this challenge into manageable steps:
Start By Decluttering

: Start by sorting through and decluttering your belongings. Donate, sell or dispose of items no longer useful. This'll reduce the volume of stuff to move while possibly saving money as well.

Notify Important Parties of your Plans

: Notifying important parties of your upcoming relocation is vitally important. Be sure to inform banks, insurance providers, utility providers as well as schools.

Research the New Area

: Familiarize yourself with your new surroundings by researching local amenities, schools, healthcare facilities and transportation options. Doing this will enable a smoother adjustment post-move.

Transfer Your Medical Records

: If you require ongoing treatments or conditions for which healthcare services have yet to begin in your new state, make arrangements to

transfer all relevant records

over. This helps maintain continuity in care without experiencing disruptions in the form of new healthcare providers in that state. Ensuring a seamless healthcare experience and any disruptions.

Update Your Addresses

: Don't forget to change your address with both the post office and any subscriptions or memberships such as magazines, online shopping accounts or loyalty programs that require it.

Pack with Care

: When packing your belongings, take time and care in selecting appropriate packing materials and techniques. Make sure each box is clearly labeled. And creating an inventory list could make unpacking and settling in much simpler. This will also save valuable time during unloading/settling-in process.

Coordination With Your Moving Company

: Remain in contact with your chosen moving company at all times. This way you can confirm dates, address details and any specific instructions or needs that arise during your move. Clear communication will facilitate an easy transition.

Take Care to Secure Essentials

: Be sure to bring important documents, medications and valuables with you on the move. This way they're easily accessible rather than packed away in an unfamiliar moving truck.

Plan Your Arriva

l: Be proactive about planning your arrival in your new state by setting up utility connections, scheduling any required installations or repairs and making sure all essentials, such as bedding and toiletries, are available prior to arriving at your new residence.
Staying organized when moving cross-state will reduce stress levels and ensure an easier, smoother experience. Following this checklist will make for a stress-free interstate move experience.
Essential Reminders On How to Prepare for an Interstate Move
Let's go over some key points and essential reminders when planning for an interstate move:
Research and select an interstate moving company that meets both your needs and budget. 

Understanding all types of interstate movers (full-service, self-service or specialty movers), you should find one which matches up perfectly with what your requirements may be.

Consider factors affecting the cost of an interstate move, including distance, weight/volume of belongings, additional services required and time of year.

And always get quotes from different moving companies to compare costs and services.

Prioritize professionalism, reputation and customer reviews when choosing an interstate moving company. 

Utilize an interstate moving checklist to stay organized and ensure a successful transition. 

Communicate regularly with your chosen moving company throughout this process in order to confirm details, address any concerns and establish clear lines of communication.

Pack carefully while decluttering as you go and using appropriate packing materials. 

Check that all necessary parties know your new address to facilitate an easy transition for records and subscriptions that must be transferred over. 

Finally, arrange utilities, installations and essential items prior to arriving in your new state.
An interstate move can be one of the most exciting times of your life. As well as one of the most stressful. But by properly planning, doing extensive research, and seeking assistance from professionals you can make the transition a true success. 
Good luck with your move. And may the new chapter bring joy, adventure and endless possibilities.