When it comes to new wheels, you might not consider purchasing a car on eBay Motors. It may not be the first place you look for the best value on new wheels, but it should be! eBay is a popular online auction site where numerous car dealers can easily and rapidly offer their new and used vehicles for sale.
In this article, we will explain how to buy a car on eBay. We will present a thorough guide to assist you to avoid being scammed as well as some additional tips when buying a car on eBay!
Things to Consider Before Buying a Car on eBay
There are numerous factors to consider before purchasing a car on eBay such as:
What Type of Vehicles to Purchase
Consider your needs and preferences while purchasing a car, such as a car's function, size, fuel efficiency, safety features, maintenance and repair costs, brand choice, and pricing. Investigate the vehicle and the seller, and don't be afraid to ask questions. Check the vehicle's history report and utilize only secure payment methods.
Setting the Budge
Consider the purchase price, insurance charges, gasoline costs, maintenance and repair costs, and finance when creating a budget for a car purchase. Investigate all prices and create a budget that is practical for your needs and financial capabilities.
Registration Document
Registration documents are extremely crucial when purchasing a car! They demonstrate that the seller owns the vehicle and is legally permitted to sell it to you. Before you complete the transaction, ensure that the registration papers are in the seller's name and that they are being transferred to you as the new owner.
Check that the registration documents are legal and up to date and that there are no ongoing concerns like liens or unsolved recalls that could pose problems in the future. Simply double-checking these areas will save you a lot of trouble in the future!
Purchasing a car online is similar to purchasing one in person at a local dealership. The easiest approach to buying a car online is to plan ahead of time and stick to your budget.
How Does Buying a Car on eBay Work?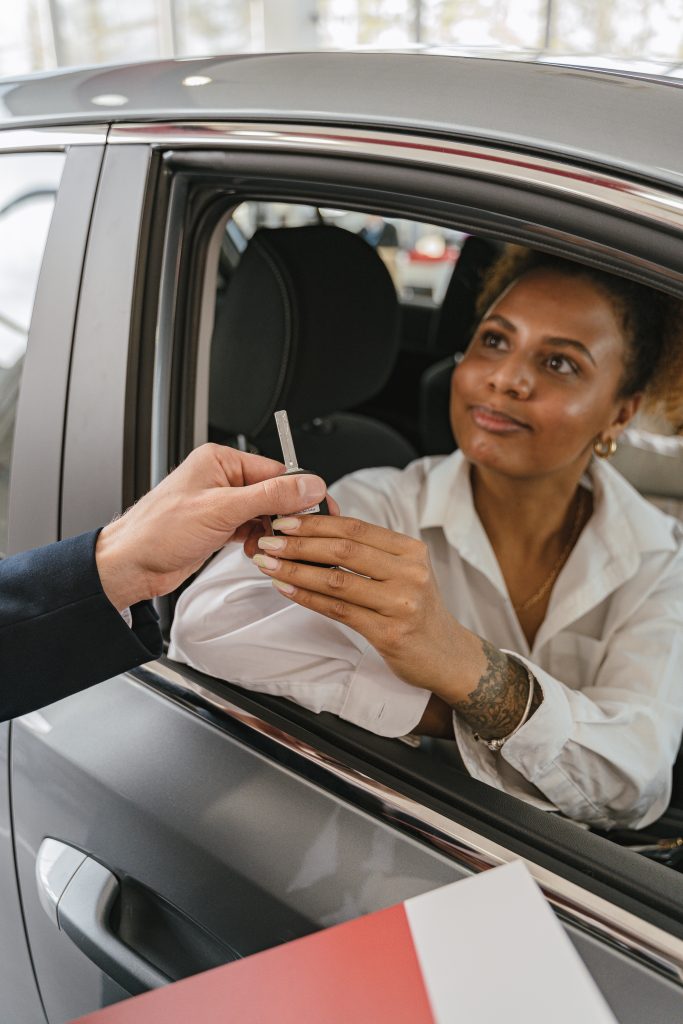 The procedure is straightforward; sellers will put their vehicles for sale on the site and supply all relevant information. As a buyer, you can filter the results by manufacturer, model, price range, year, and vehicle condition. Upon finding a suitable vehicle, the site will present two purchasing options:
Place a Bid
You can establish your own bidding limitations using this option. What is the most you're willing to pay to receive the car? During the bidding period, offers will gradually climb until they meet the buyer's limits. If you insist on buying the vehicle, they have the option of exceeding the bid limit at any time. Eventually, if the buyer wins the bid, they must transfer the money to the seller, prepare to transport the vehicle and complete all necessary paperwork.
Use the Buy it Now Button
Assume you've decided on a specific automobile and don't want to participate in the bidding process or compete with other purchasers. You can always buy the car straight from the vendor by paying the requested amount.
How Safe is Buying a Car on eBay?
When purchasing a car on eBay, it is crucial to research the vehicle and the seller, schedule an inspection, and utilize safe payment methods. It is also critical to follow the appropriate protocols and trust your intuition. By following these precautions, you can increase the likelihood of a secure and successful transaction. However, keep in mind that it is always best to be properly informed before making any purchase to avoid any possible problems or regrets.
How Do You Pay the Bid When Buying a Car on eBay?
You can pay for a car on eBay with a credit card, PayPal, an escrow service, bank transfer, or cashier's check. Before making a bid or buying, it is critical to confirm with the seller what type of payment they take. Always utilize secure payment methods and never transfer money to the seller without first inspecting the vehicle.
Ship the New Car From eBay
Shipping can be a helpful alternative when purchasing a car on eBay and the vehicle is not located near you. Make shipping arrangements with the seller and select a reputable shipping company. You can pick between three different types of vehicle carrier options to transport that vehicle.
Look For a Reliable Auto Transport Company
There are a few factors to consider when looking for a reputable auto shipping company to move a vehicle acquired on eBay:
Research the company:

Look for companies that have been in operation for a while and have received positive feedback from prior consumers and make sure to

look for these 5 signs so you don't get scammed

.

Get multiple quotes:

Contact many companies to obtain shipping rates and compare the prices and services provided.

Check for insurance and licensing:

To secure your investment and your safety, make sure the company is licensed and insured to move vehicles.

Ask about their experience:

Inquire about the company's expertise in shipping cars and whether they have any special protocols in place to ensure the safe transit of autos.

Communication:

Look for a company that is simple to connect with, keeps you updated throughout the process, and can answer any questions you may have.
You may boost your chances of choosing a professional and trustworthy auto transport company that can securely carry your car to your location by taking the time to study and compare several providers. Scams in auto transport are an unfortunate reality for anyone seeking someone to transport their vehicle to a new place. Nevertheless, there are ways that you can make sure that you are not a victim of one of these auto transport scams.
But you're in luck! Because at Mercury Auto Transport, we value trust, and it's our responsibility, as part of offering a fantastic car shipping experience, to ensure that the carrier we assign to pick up your vehicle is licensed and insured. Click here to check out our license.
When you choose Mercury for auto transportation, you can rest assured that the carrier assigned to transport your vehicle is fully insured and licensed by the FMCSA (Federal Motor Carrier and Safety Administration).
Your vehicle is covered by the carrier's insurance policy if they are doing the shipping. Also, depending on the type and size of the truck/trailer that is shipping your car, the insurance policy can cover from $100,000 to $1,000,000 of damage. Click here to get your free quote!
Tips For Buying a Car on eBay
When purchasing a car on eBay, do your homework on the vehicle and the seller, arrange for an inspection, use secure payment methods, thoroughly read the description, check the car's history, and set a budget. This will ensure that the transaction is safe and successful.
When researching a car and its seller history, it's important to check the car's VIN (vehicle identification number) to see if it has a clean title and has not been in any accidents. You can also check for any outstanding recalls on the vehicle. When purchasing a car on eBay, it is crucial to be wary of potential fraud. Make sure to thoroughly study the seller's reputation and read their comments and reviews.
It's also a good idea to properly inspect the vehicle listing and ensure that the information provided is correct. Finally, inspect the vehicle in person or obtain a vehicle history report to ensure that there are no severe difficulties or concerns. It's preferable to avoid the transaction if something doesn't look right.
Planning to ship your car without a title? Read our informative article "What to Expect When Shipping Your Car Without a Title" to understand what to expect during the process.